PRC funding of campaigns probed
The Ministry of Justice's Investigation Bureau is investigating 33 cases of alleged Chinese funding to candidate campaigns for the Nov. 24 elections, bureau Director-General Leu Wen-jong (呂文忠) said yesterday.
Asked by Chinese Nationalist Party (KMT) caucus deputy secretary-general William Tseng (曾銘宗) during a meeting of the legislature's Internal Administration Committee whether the suspect funds were coming directly from the Chinese government or affiliated organizations, Leu said: "You could say that."
Many of the cases involved donations made through Taiwanese businesses in China, Leu said.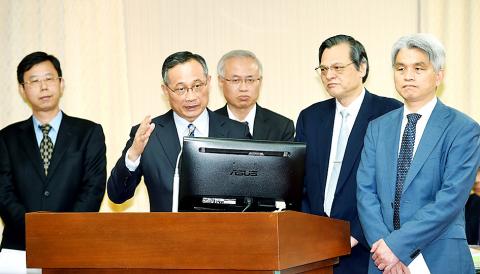 National Police Agency Director-General Chen Chia-chin, second left, speaks at a meeting of the legislature's Internal Administration Committee in Taipei yesterday as Investigation Bureau Director-General Leu Wen-jong, left, and Mainland Affairs Council Minister Chen Ming-Tong, second right, look on.
Photo: Fang Pin-chao, Taipei Times
When Tseng asked if any of the donations could have simply been made by those businesses, without Chinese help, Leu said the bureau has evidence that China is attempting to influence the elections by funding certain candidates and is preparing cases for prosecution.
If Taiwanese businesses were making the donations on their own, they would be legal, but the Political Donations Act (政治獻金法) and the Act Governing Relations Between the People of the Taiwan Area and the Mainland Area (台灣地區與大陸地區人民關係條例) prohibit donations made by Chinese individuals or entities, Leu said.
China has been attempting to circumvent these laws by making donations in other ways, such as through China-based Taiwanese businesses, with the money coming from China's Taiwan Affairs Office, he said.
Four cases that are being investigated by prosecutors in Taipei and Changhua, Yunlin and Pingtung counties are being treated as alleged vote-buying, the bureau said.
Leu said Beijing had also invited some influential community leaders to visit China on all-expenses-paid trips in return for their backing of China's favored candidates, but he would not give more details when pressed by committee members.
The bureau has identified certain candidates it believes are being funded by Beijing and it is building cases against them, he added.
The Taiwan High Prosecutors' Office has conducted raids on two underground money exchanges, he said.
The raids were part of preparations for next month's meeting of the Asia/Pacific Group on Money Laundering and aimed at cracking down on campaign violations, as some money meant to influence the elections has been flowing into the exchanges from China, he said.
Mainland Affairs Council Minister Chen Ming-tong (陳明通) told the committee that the council was already looking into the cases, but needed more specific information from the bureau.
Meanwhile, Minister of Justice Tsai Ching-hsiang (蔡清祥) called on the police to step up measures against foreign interference in next month's elections.
Additional reporting by CNA
Comments will be moderated. Keep comments relevant to the article. Remarks containing abusive and obscene language, personal attacks of any kind or promotion will be removed and the user banned. Final decision will be at the discretion of the Taipei Times.