Tsai lauds New Southbound Policy
The New Southbound Policy launched by her administration after her inauguration two years ago is bearing fruit with closer ties in terms of trade, and economic and cultural exchanges between Taiwan and nations targeted by the policy, President Tsai Ing-wen (蔡英文) said yesterday.
In an address at the opening of the Yushan Forum in Taipei, Tsai said there have been some significant results since the policy's launch.
For instance, in the first half of this year, Taiwan welcomed more than 41,000 students from New Southbound nations, she said, adding that the number would rise again next year as the government has set a goal of 48,000 students.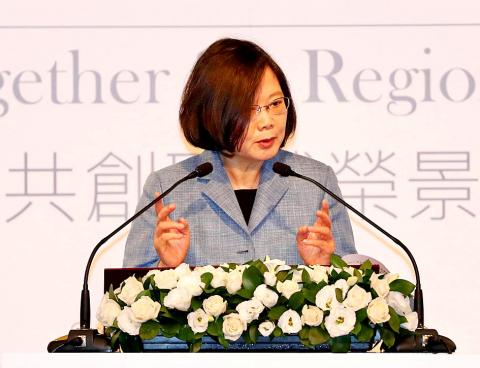 President Tsai Ing-wen speaks at the opening of the Yushan Forum at the Grand Hyatt Taipei yesterday.
Photo: CNA
"Our young people are also choosing New Southbound countries as their study destination. Last year, the number of Taiwanese students studying in those countries increased by nearly 20 percent [compared with the previous year]," she said.
In addition, more than 4 million tourists have visited Taiwan over the past two years from New Southbound Policy nations, which is helping to forge closer people-to-people ties, she added.
Bilateral trade between Taiwan and those nations has also increased significantly, Tsai said.
"Last year alone, bilateral trade between Taiwan and New Southbound countries grew by around 15 percent year-on-year. Taiwan's investment in those countries rose by 54 percent and approved investment from those countries in Taiwan also increased by about 15 percent," she said.
The president said the two-day Yushan Forum, which was launched last year to promote Taiwan's regional status and support the government's efforts to forge a broader relationship with nations targeted by the New Southbound Policy, is a "unique platform celebrating diversity, innovation and progressive values."
Tsai said she hopes the forum will become one of Asia's premier events on regional affairs and cooperation.
To conclude her remarks, she borrowed a quote from former Philippine vice president Teofisto Guingona Jr, who said at last year's inaugural Yushan Forum: "We help each other. The Philippines to help Taiwan, and Taiwan to help the Philippines."
Tsai said the quote exemplified the spirit of the forum and the New Southbound Policy as a whole, which is "Taiwan can help Asia, and Asia can help Taiwan."
Forty-eight speakers from 18 nations are attending the forum.
Comments will be moderated. Keep comments relevant to the article. Remarks containing abusive and obscene language, personal attacks of any kind or promotion will be removed and the user banned. Final decision will be at the discretion of the Taipei Times.