NCC blasted for not curbing fake news
'SWORD OF STATE': Legislators criticized the NCC for never using a 2016 law to punish broadcasters that air false information on the basis of protecting freedom of speech
The Legislative Yuan's Transportation Committee yesterday criticized the National Communications Commission (NCC) for not enforcing regulations to curb the spread of fake news.
The issue became prominent following the suicide of Su Chii-cherng (蘇啟誠), director-general of the Osaka branch of the Taipei Economic and Cultural Office, after the branch was criticized for its perceived lack of assistance for Taiwanese who were affected by Typhoon Jebi.
Article 27 of the Satellite Broadcasting Act (衛星廣播電視法) states that news and commentary on broadcast media should verify facts, ensure fairness and not damage the public interest, Democratic Progressive Party (DPP) Legislator Cheng Pao-ching (鄭寶清) said.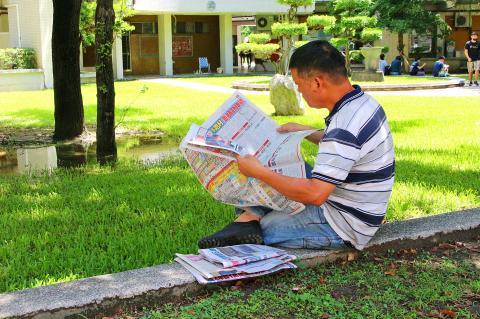 A man reads a newspaper outside a school in Changhua County in an undated photograph.
Photo: Chang Tsung-chiu, Taipei Times
Broadcasters that contravene the regulation would face a fine of NT$200,000 to NT$2 million (US$6,495 to US$64,952), Cheng said, adding that broadcasts of its advertisements and programs could also be suspended.
However, the commission has not punished any station for airing false information since the amendment was passed in 2016 on the grounds of protecting the freedom of speech, Cheng said.
"It is like you are holding a sword of the state in your hand, but you never use it," he said, questioning NCC Chairwoman Nicole Chan's (詹婷怡) ability to enforce the law.
Chan said that the commission would ensure that the broadcast media verifies information, but added that the agency must also uphold freedom of speech.
"I will use smart and correct methods to handle the issue" of fake news, Chan said. "If I were to be seen as all talk and no deed, then I would tender my resignation immediately."
Chan's attitude when responding to Cheng's questions drew severe criticism from DPP legislators Lee Kun-tse (李昆澤), Yeh Yi-jin (葉宜津) and Chen Ming-wen (陳明文).
"You said that you have been working on this issue for two years, so why is there still so much fake news out there? This proves that you have a problem enforcing the law," Yeh said. "Cheng simply stated the facts and asked you a legitimate question."
Chan then apologized for the way she behaved and promised to change her attitude.
Commenting on the proposed amendment to the National Security Act (國家安全法) to stop the dissemination of fake news from China, Chan reiterated that smart methods must be employed to handle the situation, or it would end up hurting the nation's democratic values.
Rules meant to curtail the spread of false information should not be stipulated by an agency like the commission, which oversees telecoms and broadcasters, she said.
For example, officials in the German Federal Ministry of Justice and Ministry of Interior, Building and Community are responsible for dealing with issues generated by hate speech, Chan added.
The US Congress in 2016 passed the Countering Foreign Propaganda and Disinformation Act, which authorized the US Department of State to form a special task force of officials from different government agencies to handle false information from within and outside the country, Chan said.
Premier William Lai (賴清德) has entrusted Minister Without Portfolio Luo Bing-cheng (羅秉成) with the task of coordinating agencies to curb fake news.
DPP Legislator Lin Chun-hsien (林俊憲) said that the commission needs to toughen its enforcement of the law, adding that any regulatory measure on fake news could be enforced only if the people consider it to be a serious issue.
Germany's Network Enforcement Law, which came into effect on Jan. 1, governs any social media platform that has more than 2 million registered users, he said.
The law also requires social media platforms to take remedial action for damages caused by false information or face a fine of 500 million euros (US$575.4 million), Lin added.
The act was criticized as too strict, with some accusing Berlin of restricting freedom of speech, but the country is determined to enforce the law, he said.
Comments will be moderated. Keep comments relevant to the article. Remarks containing abusive and obscene language, personal attacks of any kind or promotion will be removed and the user banned. Final decision will be at the discretion of the Taipei Times.