Deputy chairman resigns from Transitional Justice
MANIPULATED OPINION? The Transitional Justice Commission would never be a campaign tool, but remain independent and objective, Chairman Huang Huang-hsiung said
Transitional Justice Commission Deputy Chairman Chang Tien-chin (張天欽) has resigned over his alleged plan to manipulate public opinion so that Chinese Nationalist Party (KMT) New Taipei City mayoral candidate Hou You-yi (侯友宜) would be held accountable for his actions during the White Terror era.
Chang's resignation came in the aftermath of a leaked audio recording of an informal meeting on Aug. 24, which was allegedly attended by Chang, commission Secretary-General Hsu Chun-ju (許君如), as well as two commission researchers and two associate researchers.
According to a partial transcript published yesterday by the Chinese-language Mirror Media magazine, Chang asked the participants to brainstorm on how to enforce a lustration law that the commission had planned to draw up and, specifically, how to use it against Hou, whom Chang called the "most despicable case [of concern] in transitional justice."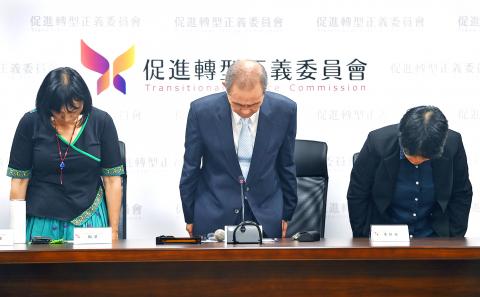 Transitional Justice Commission Chairman Huang Huang-hsiung, center, and other committee members apologize during a news conference in Taipei yesterday after Deputy Chairman Chang Tien-chin resigned.
Photo: Liao Chen-huei, Taipei Times
Adopted by several nations that have undergone transitional justice, a lustration law is a mechanism to examine whether a person holding public office occupied any "suspicious positions" in the previous authoritarian regime.
"It will be a pity if we do not manipulate [public opinion] against Hou," Chang allegedly said in the meeting, adding that the commission should find cases from other countries that are similar to Hou's and use them to convince the public of the need to hold Hou accountable for his actions.
Hou headed the Taipei Police Department's Criminal Investigation Division in its failed attempt to arrest — at the behest of the KMT regime — democracy activist Deng Nan-jung (鄭南榕) at the office of his Freedom Era Weekly magazine in 1989. Deng refused to be taken alive, immolating himself after locking himself in the office.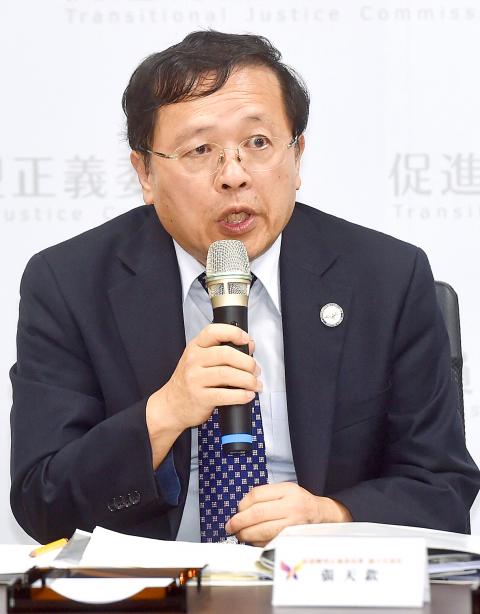 Transitional Justice Commission Deputy Chairman Chang Tien-chin speaks at a news conference in Taipei on July 16.
Photo: Chien Jung-fong, Taipei Times
Chang issued a statement announcing his resignation shortly after the story broke, apologizing for damage to the commission's image and credibility.
"It is not easy for the nation to begin its transitional justice efforts, which is why many political victims and their families have high hopes for the commission," Chang said.
"Most commission staff members have been racing against time and hoping to complete its final report within two years. Their endeavor should not be affected by the leaked recording," he added.
The commission would never become a campaign tool, Commission Chairman Huang Huang-hsiung (黃煌雄) told a news conference yesterday afternoon, adding that he had approved Chang's resignation.
Huang and the commission's three full-time members bowed in apology to the public over the scandal.
"I want to reiterate that the commission is an independent body established in accordance with the law, which transcends partisan politics. None of its employees are allowed to participate in political activities, nor would we ever entangle our transitional justice efforts with elections," Huang said.
Huang said staff members at the meeting convened by Chang were merely discussing issues among themselves, and did not represent the commission's stance, but added that an investigation would be launched into the matter.
Apologizing to the public on behalf of the Executive Yuan,Premier William Lai (賴清德) yesterday said the Executive Yuan found Chang's remarks "utterly unacceptable."
"Chang's comments have not only undermined the commission's credibility, but have also fueled social divisions," Lai said.
Presidential Office spokesman Sidney Lin (林鶴明) said the tasks that the commission has been entrusted with do not target any individual, nor are they designed to improve a party's competitiveness.
"The key to the smooth fulfillment of these tasks is ensuring an independent and objective stance in the process... Chang's remarks, whether made publicly or in private, were inappropriate," he said.
Additional reporting by CNA
Comments will be moderated. Keep comments relevant to the article. Remarks containing abusive and obscene language, personal attacks of any kind or promotion will be removed and the user banned. Final decision will be at the discretion of the Taipei Times.