Tsai urges EU nations to back Taiwan
BRUSSELS SPEECH: A liberal democratic order can only survive if like-minded countries, including our European partners, work together for the greater good, Tsai Ing-wen said
President Tsai Ing-wen (蔡英文) on Monday urged European nations to support liberal, democratic Taiwan at a time when a rising China is affecting the global landscape.
In a recorded speech at a seminar held at the European Parliament in Brussels, Tsai said China is undermining the "status quo" across the Taiwan Strait and its rapid rise is changing the global order in place since the end of World War II.
At the opening of the Taiwan-sponsored seminar titled "China Factor: Resistance is Futile? — Taiwan as a Case Study," Tsai said in a video that Taiwan is aware of the challenges posed by China and that its actions have "not served to drive Taiwan to Beijing, but encouraged us to look at where our friends and partners are, in countries that share our values and interests."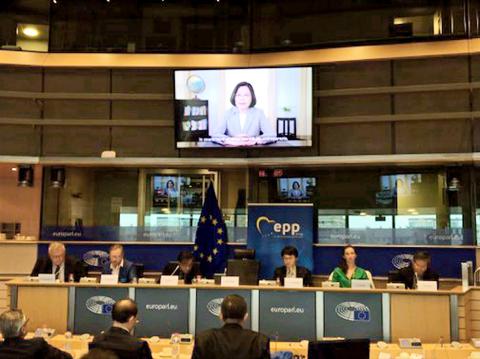 President Tsai Ing-wen speaks in a recorded video address to a Taiwan-sponsored seminar at the European Parliament in Brussels, Belgium, on Monday.
Photo: CNA
Since 2016, China has stepped up its pressure on democratic Taiwan and tried hard to squeeze its economy and international space, Tsai said.
China has been working to destabilize Taiwan and undermine Taiwanese trust in the nation's democratic institutions, she said.
However, China's actions have only strengthened Taiwan's resolve that freedom and democracy, not fear, would continue to determine the future of the nation's 23 million people, she said.
"At this critical juncture in human history, Taiwan understands, better than any country in the world, how important it is that those values survive," Tsai said. "As a small democracy trying to engage with the world's most powerful non-democratic country, Taiwan is resilient and determined to safeguard our precious democracy."
However, these challenges are not for Taiwan alone and the nation is seeking support from friends and partners that share the same values, she said.
"We do need your support. A liberal democratic order can only survive if like-minded countries, including our European partners, work together for the greater good," she said. "I'm calling on all like-minded countries to display the same spirit that led to the founding of a union across Europe in 1951: the clear-eyed sense that only by coming together can we protect our values and our future," she said.
The speech, which lasted about 4 minutes, 30 seconds, received plenty of applause from the audience at the seminar, which was hosted by the European Federation of Taiwanese Associations.
In response to Tsai's speech, Ivan Stefanec, a Slovak member of the European Parliament, said the EU and Taiwan have forged close ties and that the union should pay more attention to democratic development in Taiwan and Asia.
He called for more exchanges between Taiwan and the EU in economics, education and culture.
Stefanec, who has visited Taiwan several times and is familiar with cross-strait relations, said China's rise is a very important issue not only in global economics, but also in international politics, so the EU needs to keep an eye on the latest developments.
Comments will be moderated. Keep comments relevant to the article. Remarks containing abusive and obscene language, personal attacks of any kind or promotion will be removed and the user banned. Final decision will be at the discretion of the Taipei Times.