Trump to skip ASEAN, APEC meetings
US President Donald Trump is to skip two major summits in Asia in November, a move that could stoke concerns in the region about the US' reliability as a counterweight to China.
The White House on Friday said that US Vice President Mike Pence would travel to Singapore for an 18-member ASEAN summit, before heading to Papua New Guinea for an APEC gathering.
The APEC summit is normally attended by 21 leaders, including Chinese President Xi Jinping (習近平) and Russian President Vladimir Putin.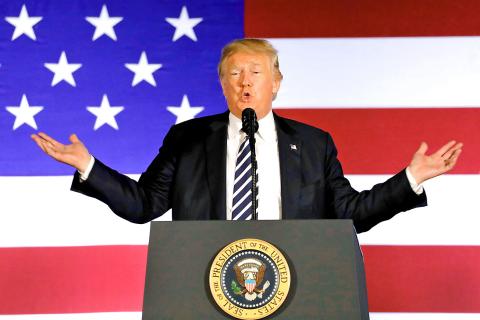 US President Donald Trump speaks at campaign fundraising luncheon for US Representative Ted Budd and Republican congressional candidate Mark Harris at Carmel Country Club in Charlotte, North Carolina on Friday.
Photo: Reuters
The decision removes one potential avenue for Trump to meet with Xi as a trade war between the US and China deepens. Both leaders are expected to attend the G20 summit in Argentina later in November.
Trump's absence is also likely to fuel concerns among Asian leaders who want the US to push back against China's increasing economic and military might.
Trump administration officials have been promoting a new "Indo-Pacific" strategy to bolster its commitment to the region, after Trump withdrew from the Trans-Pacific Partnership (TPP) trade deal and questioned the cost of security alliances with Japan and South Korea.
"His absence would doubtlessly solidify the impression that America has essentially abandoned its traditional presence in the Asia-Pacific, not to mention the non-starter Indo-Pacific," said Oh Ei Sun (胡逸山), a senior adviser for international affairs at the Asian Strategy and Leadership Institute in Kuala Lumpur.
Without Trump, Xi would have more space to advocate Chinese trade and development projects, such as his ambitious Belt and Road Initiative.
Xi was the first leader to confirm his attendance to the APEC meeting in Port Moresby, Papua New Guinea, where he also plans to host his own summit with Pacific leaders.
Although US leaders have attended the events over the past few years, missing them is not unprecedented.
In 2007, then-US president George W. Bush drew flak for rescheduling a planned meeting with ASEAN leaders in Singapore. Former US president Barack Obama, whose administration announced a pivot in military and diplomatic resources to Asia, in 2013 skipped APEC to handle a government shutdown.
Newly installed Australian Prime Minister Scott Morrison during a trip to Jakarta yesterday told reporters that Trump's decision to tend to matters at home was understandable and Pence "speaks with the authority of the [US] president."
The Singaporean Ministry of Foreign Affairs welcomed Pence's visit to the city-state, adding in a statement that it would be his first as US vice president.
The Asian summits come days after midterm US Congressional elections, which could determine Trump's ability to withstand investigations into Russian campaign interference and election-season payments to alleged mistresses.
While US Democratic Party leaders have largely avoided talking about impeaching Trump, Republican losses in the US House of Representatives or Senate would greatly increase the risk of congressional action.
Collin Koh Swee Lean (高瑞連), a research fellow at the S. Rajaratnam School of International Studies in Singapore, said that efforts by US officials in the region should help offset Trump's absence.
US Secretary of State Michael Pompeo at an ASEAN meeting last month announced US$300 million in regional security funding and the US military is among nine nations participating in the ongoing annual Southeast Asia Cooperation and Training exercises in Singapore.
Comments will be moderated. Keep comments relevant to the article. Remarks containing abusive and obscene language, personal attacks of any kind or promotion will be removed and the user banned. Final decision will be at the discretion of the Taipei Times.