China prepping for all-out war: ministry report
The Chinese People's Liberation Army (PLA) plans to be fully equipped to carry out a full-scale resumption of hostilities against Taiwan by 2020, a Ministry of Defense report released yesterday showed.
Possible PLA strategies against Taiwan include combined arms tactics, naval blockades, artillery shelling and amphibious assaults, the 2018 Report on the People's Liberation Army said.
The Chinese Communist Party (CCP) has not renounced its intention to conquer Taiwan through military means, and its adherence to the "one China" principle, denial of the "one China, one Taiwan" system and refusal to acknowledge the de facto sovereignty of the Taiwanese government presents an ever-growing threat to the Taiwanese military, the report said.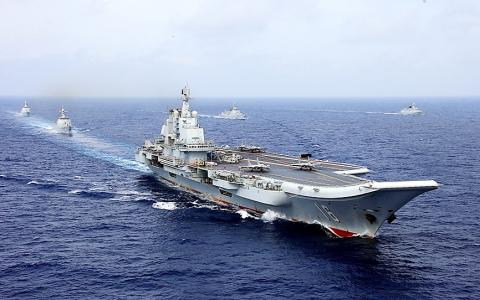 China's first aircraft carrier, the Liaoning, participates in a Chinese People's Liberation Army Navy exercise in the western Pacific Ocean on April 18.
Photo: Reuters
The PLA drafts its plans for minimal losses and maximum efficiency, and would aim to conduct a lightning-fast invasion aimed at a swift conclusion of military operations, it said.
China sees unification with Taiwan as the unwavering "duty" of the CCP, it added.
A declaration of independence, domestic instability, receiving or developing nuclear weapons, a delay in political talks geared toward unification, foreign intervention in Taiwan's internal affairs or the deployment of foreign forces to Taiwan are possible flashpoints that could lead to a Chinese invasion of the nation, the ministry said.
PLA exercises over the past few years have been aimed at preparing for war against Taiwan, but the Taiwan Strait remains a hard-to-overcome natural defense due to the PLA Navy's lack of transport vessels and inadequate logistics capability, the report said.
The PLA is expected to look into acquiring the capability to launch joint landing operations, the report said, adding that the ever-growing threat the PLA poses to Taiwan bears close monitoring.
Comments will be moderated. Keep comments relevant to the article. Remarks containing abusive and obscene language, personal attacks of any kind or promotion will be removed and the user banned. Final decision will be at the discretion of the Taipei Times.