Beijing snooping into firms' political ties
POLITICAL OPPRESSION: Deputy Legislative Speaker Tsai Chi-chang said the identity of Taiwanese firms that make donations and have Chinese operations should be protected
Democratic Progressive Party (DPP) lawmakers yesterday decried an alleged Chinese investigation into political donations made by Taiwanese businesses that operate in China, saying that the democratic value of transparency should not be used for political oppression.
The Chinese government is allegedly looking into whether Taiwanese corporations with operations in China have donated to the pan-green camp — which in Taiwan is public information — and aims to have the firms make "political statements" akin to that made by Taiwan-based cafe and bakery chain 85°C (85度C), a source said yesterday.
The cafe on Aug. 15 declared its support for the so-called "1992 consensus" and the peaceful development of cross-strait ties when Chinese netizens threatened to boycott the chain after one of its branches in Los Angeles allegedly gave President Tsai Ing-wen (蔡英文) a gift package while she was en route to Paraguay and Belize.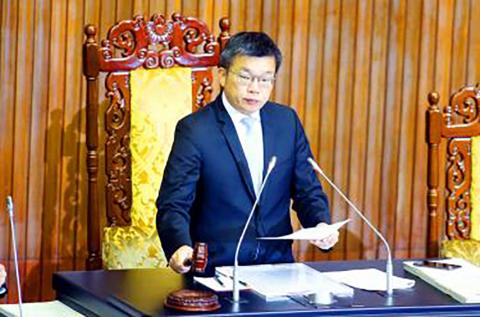 Deputy Legislative Speaker Tsai Chi-chang bangs his gavel in the Legisative Yuan in Taipei last year to mark the passage of an amendment to the National Health Insurance Act that gives insurance coverage to foreign residents' babies as soon as they are born.
Photo: CNA
Some Taiwanese corporations have already approached pan-green politicians and legislators "seeking help," the source said.
Asked for comment, Deputy Legislative Speaker Tsai Chi-chang (蔡其昌) said: "While we encourage the transparency of political donations to civil servants, the identity of Taiwanese corporations in China that make donations should be protected."
Beijing intrusions just deepen Taiwanese loathing for China and such actions "are ill-willed acts to undermine cross-strait development," he added.
Information made public under the Political Donations Act (政治獻金法) should not make donors a target of political suppression, DPP Legislator Lai Jui-lung (賴瑞隆) said.
Any such action seeking to counter democratic values and influence economic activity should be condemned, Lai said.
The 85°C incident serves as a lesson on Chinese intrusion into the private affairs of companies and Beijing continuing the practice as a way to oppress Taiwanese corporations in China would only further alienate Taiwanese, he said.
National security-related agencies should have a stronger response to political threats made by an authoritarian China against Taiwan's democracy, Lai said.
Domestic political parties should not collude with China to oppress Taiwanese democratic values, which were hard-fought and could be lost if allowed to slip away, Lai added.
The declaration of political donations should not lead to donors' right to privacy being breached, a DPP party official said on condition of anonymity, adding that the information should only be revealed if criminal activity is suspected, or in other "special" circumstances.
Asked whether the alleged breach by China would result in fewer donations to the pan-green camp, DPP Legislator Kuan Bi-ling (管碧玲) said the move by Beijing would be ineffective and only cause China to lose further support in Taiwan, while DPP Legislator Tsai Yi-yu (蔡易餘) said it would not only fail to cut off funding for the party, but also "help the campaigns of pan-green candidates."
DPP Legislator Rosalia Wu (吳思瑤) said the alleged Chinese actions were absurd and constituted a direct intrusion into Taiwanese politics and elections, adding that such actions would only have adverse effects.
Comments will be moderated. Keep comments relevant to the article. Remarks containing abusive and obscene language, personal attacks of any kind or promotion will be removed and the user banned. Final decision will be at the discretion of the Taipei Times.