Lai to set goals to make English official language
Premier William Lai (賴清德) will next year present clear-cut goals for the government's plan to make English a second official language, Executive Yuan spokeswoman Kolas Yotaka said yesterday.
The Ministry of Education will present an official report to Lai in the next few weeks on its recommendations for adopting English as an official language alongside Mandarin, Kolas said, after Lai discussed the issue in an interview with the Chinese-language Economic Daily News published yesterday.
"I will set a policy goal next year to make Taiwan a bilingual country, with English and Chinese being its official languages," Lai said in the interview.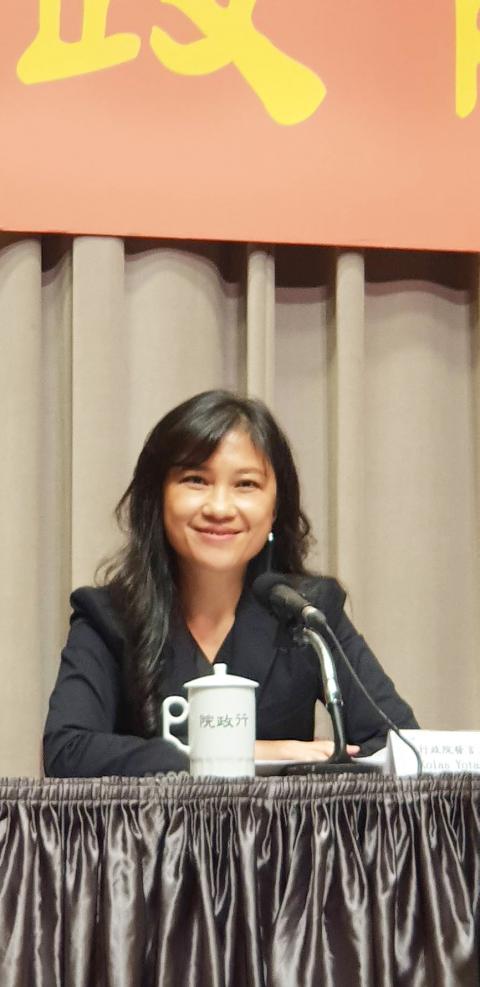 Executive Yuan spokeswoman Kolas Yotaka smiles during a news conference at the Executive Yuan in Taipei on Aug. 11.
Photo: Lee Hsin-fang, Taipei Times
Lai late last year directed the ministry to form a "Committee to Promote English as an Official Language," which was tasked with studying the issue, carrying out public surveys and drafting a plan on how to achieve the goal.
The ministry submitted the committee's first report to Lai in June and is expected to present the second and final one by the end of this week or early next month, Kolas said.
The second report is to focus on ways and means of improving English teaching in schools, including establishing bilingual schools or classes and emphasizing spoken English, she said.
It will also deal with legislative issues such as the feasibility of deregulation to help promote a broad bilingual environment, Kolas said.
Earlier this year, then-minister of education Pan Wen-chung (潘文忠) told the Central News Agency in an interview that English competence did not equate to competitiveness, but it lays a foundation on which people can collect accurate information in a timely way, showcase professional expertise or express ideas without language barriers in the international arena, giving them a competitive edge.
"English proficiency opens up opportunities for young people," Pan said. "We must do this for the next generation."
Lai, who initiated a similar program in Tainan when he was mayor, has spearheaded the push to make English an official national language.
Comments will be moderated. Keep comments relevant to the article. Remarks containing abusive and obscene language, personal attacks of any kind or promotion will be removed and the user banned. Final decision will be at the discretion of the Taipei Times.