Government has 'zero allies' plan: Presidential Office
The government has a strategy in place for if Taiwan were to lose all of its diplomatic allies, Presidential Office spokesman Alex Huang (黃重諺) said yesterday, but added that the nation would not succumb to China's mounting pressure.
During a morning interview with radio show host Clara Chou (周玉蔻), Huang was asked whether President Tsai Ing-wen's (蔡英文) administration has contemplated the possibility of being left with no diplomatic allies after losing El Salvador on Tuesday.
El Salvador is the fifth nation to switch official recognition to Beijing since Tsai took office in May 2016, following Sao Tome and Principe, Panama, the Dominican Republic and Burkina Faso, leaving the nation with 17 diplomatic allies.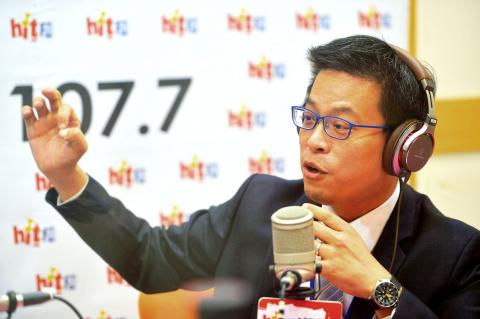 Presidential Office spokesman Alex Huang speaks during a radio interview in Taipei yesterday.
Photo: CNA
"We have considered all kinds of scenarios and I think [the one you mentioned] was among them," Huang said, but declined to reveal Tsai's bottom line in terms of the number of allies.
Tsai's national security team months ago received intelligence concerning El Salvador's possible switch, which was why it examined all possible scenarios and prepared corresponding measures before Tsai embarked on her nine-day visit to Paraguay and Belize on Aug. 12, Huang added.
"They explored five or six hypothetical scenarios, including [the breakage of ties occurring] before Tsai's visit, during her transit stops in the US, during her stay at our diplomatic allies and after her return," he said.
Regarding the controversy surrounding Taiwan-based bakery cafe 85°C (85度C) — which declared its support for the so-called "1992 consensus" amid boycott threats from China after a store in Los Angeles served Tsai — Huang said that Tsai's visit to the store was arranged in advance.
Tsai only visited to offer encouragement to a Taiwanese business, Huang said, adding that she found China's reaction incredible.
Asked whether the incident would prevent Tsai from visiting overseas Taiwanese businesses, Huang said: "Some US-based Taiwanese businesspeople have actually invited the president to visit their companies in her future transit stops as a show of support."
Tsai has never considered succumbing to Beijing's threats, because of incidents such as China barring a choir from Nantou County's Minhe Junior High School from performing at the World Peace Choral Festival in Vienna last month, Huang said.
"We want to make sure that our next generations are able to freely represent themselves," he said.
The "1992 consensus" refers to a tacit understanding between the Chinese Nationalist Party (KMT) and the Chinese Communist Party that both sides of the Taiwan Strait acknowledge there is "one China," with each side having its own interpretation of what "China" means.
Comments will be moderated. Keep comments relevant to the article. Remarks containing abusive and obscene language, personal attacks of any kind or promotion will be removed and the user banned. Final decision will be at the discretion of the Taipei Times.