Ministry to boost science facilities on Pratas, Itu Aba
The Ministry of Science and Technology is to boost scientific facilities on the Pratas Islands (Dongsha Islands, 東沙群島) and Itu Aba Island (Taiping Island, 太平島), and increase collaborations with Southeast Asian countries, a ministry official said yesterday.
Minister of Science and Technology Chen Liang-gee (陳良基) on Friday led a delegation of 64 government officials and researchers to inspect facilities on Pratas, and meet with US and Japanese scientists.
The inspection is part of the ministry's four-year Integrated Program for Intelligent Prevention of Natural Disasters and International Cooperative Research on Earth Sciences in Southeast Asia, which began last month and runs through 2022, Department of Natural Sciences and Sustainable Development Director-General Wu Chun-chieh (吳俊傑) said.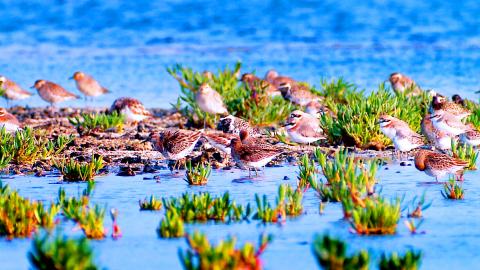 Birds on Dongsha Island (Pratas Island) stand by the water on Nov. 3 last year.
Photo: Copy by Tsai Ching-hua, Taipei Times
The program — composed of four subsidiary projects — aims to boost the nation's atmospheric, maritime, Earth science and disaster prevention research efforts on and around the islands, and to share technologies with countries included in the government's New Southbound Policy, Wu said.
First, the ministry plans to enhance research equipment at the scientific research station on Pratas, as well as improve its maintenance and support systems, with National Sun Yat-sen University professor of oceanography Soong Ker-yea (宋克義) serving as project head, Wu said.
Humanities researchers were part of the inspection, with an eye to inspiring new research based on the island's extraordinary social and cultural conditions, he said.
On Itu Aba, the ministry is seeking to advance atmospheric observations by upgrading surface-based observation infrastructure, installing new cloud observation facilities and launching more climate data-gathering equipment, with National Taiwan University Department of Atmospheric Science chair Lin Po-Hsiung (林博雄) leading the project, Wu said.
The third project is to share the nation's disaster prevention and early-warning systems for earthquakes with Southeast Asian countries, given that "Taiwan is a leader in disaster prevention studies in the region," Wu said, adding that the project would be managed by National Science and Technology Center for Disaster Reduction Director Hongey Chen (陳宏宇).
Through the fourth project, the ministry plans to fortify connections between Taiwanese and Southeast Asian academics, and foster student and expert exchanges, with Academia Sinica Institute of Earth Sciences director Chung Sun-lin (鍾孫霖) leading the project, Wu said.
Hopefully, the projects would enlarge the nation's presence on the global stage and lead to more bilateral and multilateral collaborations, Wu said, adding that the ministry is focused on scientific research and collaborations, not political issues.
The ministry is to share research findings with scientists working for Year of the Maritime Continent, a two-year project that began last year to study the climate of the Earth's largest archipelago, which stretches from the Indian Ocean to the Pacific Ocean, Wu said, adding that Taiwan contributes by sharing observations collected on Itu Aba and Pratas.
Comments will be moderated. Keep comments relevant to the article. Remarks containing abusive and obscene language, personal attacks of any kind or promotion will be removed and the user banned. Final decision will be at the discretion of the Taipei Times.