Tsai says China hurting its goal to be respected
'THINK CAREFULLY': The president said that Beijing needs to create more amicable interactions and build more mutual trust across the Taiwan Strait
Beijing's suppression of Taiwan is unfavorable to cross-strait relations and runs counter to China's goal of becoming a respected nation, President Tsai Ing-wen (蔡英文) said on Friday.
Tsai was commenting on an incident in which Taiwan-based bakery cafe chain 85°C (85度C) was boycotted and labeled a pro-Taiwan independence company by Chinese netizens after Tsai visited one of its stores in Los Angeles during a transit stop on Sunday last week.
The social media uproar forced the company to issue a statement expressing support for the so-called "1992 consensus."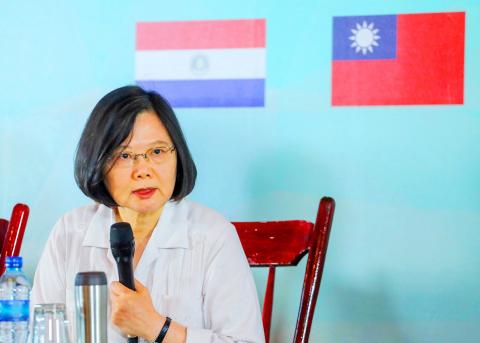 President Tsai Ing-wen speaks at a news conference in Belize on Friday.
Photo: CNA
However, netizens in Taiwan also threatened to boycott the company, expressing anger at the statement.
The "1992 consensus" is a term former Mainland Affairs Council chairman Su Chi (蘇起) in 2006 admitted making up in 2000. It refers to a tacit understanding between the Chinese Nationalist Party (KMT) and the Chinese government that both sides of the Strait acknowledge there is "one China," with each side having its own interpretation of what "China" means.
Tsai on Friday described the incident as "regrettable" and unhelpful to the development of cross-strait relations, saying that the company has been forced to take a political stand and has failed to please either side.
In the face of such a situation, Taiwanese should not point fingers at each other, but should stand more united for Taiwan's democracy and freedom, she said.
At a time when China is hoping to become a respected nation and a positive force to lead regional development, it needs to create more amicable interactions and build more mutual trust in the region, including across the Taiwan Strait, she said.
However, Beijing's actions to suppress Taiwan are not something that a responsible country should be doing, she added.
"China should think carefully about whether what it is doing now is going against its goal," Tsai said.
Belize is the second leg of Tsai's trip, which has already taken her to Paraguay, where she attended the inauguration of Paraguayan President Mario Abdo Benitez.
Tsai yesterday was to leave Belize for Houston, Texas, where she was to make a 27-hour stopover before returning to Taiwan.
Comments will be moderated. Keep comments relevant to the article. Remarks containing abusive and obscene language, personal attacks of any kind or promotion will be removed and the user banned. Final decision will be at the discretion of the Taipei Times.