Taiwan needs to sell itself better: former AIT head
Taiwan needs to do more to sell itself to the world, for example by publicizing its achievements in various fields and calling attention to China's bullying in international media, former American Institute in Taiwan (AIT) director William Stanton said.
He made the remark at a forum in Taipei yesterday when asked how Taiwan should respond to China's threats in Beijing's bid to becoming a global hegemony.
"I think you need to undertake much more imaginative public relations with the international community versus what is advocated to people in government," Stanton said at the forum on Taiwan-US-China relations hosted by Chinese Nationalist Party (KMT) Legislator Jason Hsu (許毓仁).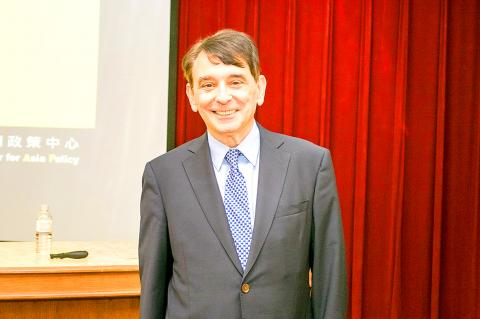 Former American Institute in Taiwan director William Stanton poses for a photograph at National Tsing Hua University in Hsinchu on April 25 last year.
Photo courtesy of William Stanton
The government could take out full-page advertisements in major newspapers, such as the New York Times, to remind people of what Taiwan has accomplished, he said.
"Taiwan has moved from poverty to prosperity and from a military dictatorship to one of the strongest democracies in the world in just more than 30 years," Stanton said.
"You rank fourth globally on the Programme for International Student Assessment," he said. "You rank higher than the US in press freedom and higher than many European countries in academic freedom. You are also ranked one of the safest places in the world, both in terms of countries and cities."
However, most people he had spoken with do not recognize how high Taiwan ranks in those fields, he added.
"Remind people of what's at stake if you become just another part of the People's Republic of China and you wind up like Hong Kong. Remind people of what you've achieved on your own. Make the case for why you are important and why the world should care about you," Stanton said.
Citing as an example threats of a Chinese boycott against Taiwanese coffee bakery chain 85°C (85度C) because an employee at one of its US branches "asked President Tsai Ing-wen [蔡英文] to sign a pillow," Stanton said the government should respond to such bullying tactics by running full-page editorials in international media explaining the overtures it has made over the past few years, the offers for reasonable conversations and the responses from China to try to bully Taiwanese.
He also cited China's pressuring of Taiwanese K-pop idol Chou Tzu-yu (周子瑜) in 2016 into issuing an apology for briefly holding up a Republic of China flag on a South Korean variety TV show; its attempt to bar a Taiwanese student from attending a model UN meeting in New York; and Beijing driving away two Fisheries Agency officials at a 2016 UN Food and Agriculture Organization Committee on Fisheries meeting in Rome "because Taiwan is not a country," saying that all such bullying against Taiwan deserves the attention of the international community.
"There's many ways in which you can portray yourselves in the positive light you deserve," Stanton said.
Comments will be moderated. Keep comments relevant to the article. Remarks containing abusive and obscene language, personal attacks of any kind or promotion will be removed and the user banned. Final decision will be at the discretion of the Taipei Times.