Taiwan losing military edge: US report
UNIFICATION: The Pentagon said China could pursue a measured approach signaling its readiness for armed conflict or conduct a methodical campaign to force capitulation
Taiwan's military advantages are waning as Beijing continues to modernize its armed forces and reinforce preparations for a possible conflict in the Taiwan Strait, the US Department of Defense said in a report released on Thursday.
Taiwan has historically enjoyed military advantages in a potential cross-strait conflict, such as technological superiority and the "inherent geographic advantages of island defense," the Pentagon said in its report to US Congress titled Military and Security Developments Involving the People's Republic of China (PRC).
However, "China's multi-decade military modernization effort has eroded or negated many of these," it said.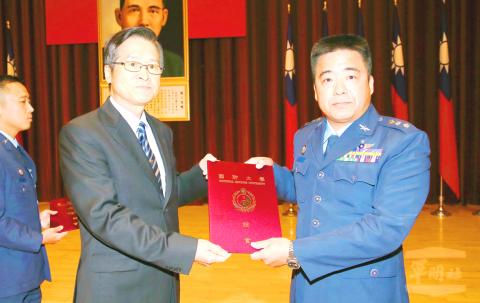 Minister of National Defense Yen De-fa, left, presents a diploma at the National Defense University's joint graduation ceremony at its campus in Taoyuan's Bade District yesterday.
Photo courtesy of Military News Agency
Although Taiwan is taking steps to compensate, they only partially address the nation's declining defensive advantages at a time when China's official defense budget has grown to about 15 times that of Taiwan, it added.
Much of Beijing's defense budget is focused on developing the capability to unify Taiwan by force, the report said, adding that "China has never repudiated the use of military force," despite its advocacy of "peaceful reunification."
"China's overall strategy continues to incorporate elements of both persuasion and coercion to hinder the development of political attitudes in Taiwan favoring independence," the report said.
After a break in formal communication after the election of President Tsai Ing-wen (蔡英文), China has stressed that Taiwan must accept the so-called "1992 consensus" to restart formal engagement, it said.
The "1992 consensus," a term former Mainland Affairs Council chairman Su Chi (蘇起) in 2006 admitted making up in 2000, refers to a supposed agreement between the Chinese Nationalist Party (KMT) and the Chinese Communist Party that both sides of the Taiwan Strait acknowledge that there is "one China," with each side having its own interpretation of what "China" means.
Against that backdrop, a major reorganization of the Chinese People's Liberation Army (PLA) last year "likely affected units responsible for a Taiwan contingency," the report said. "Concurrently, the PLA continued to develop and deploy increasingly advanced military capabilities intended to coerce Taiwan, signal Chinese resolve and gradually improve capabilities for an invasion."
These improvements pose major challenges to Taiwan's security, the report said, adding that "China could pursue a measured approach by signaling its readiness to use force or conduct punitive actions against Taiwan."
"The PLA could also conduct a more comprehensive and more methodical campaign designed to force Taiwan to capitulate to unification, or unification dialogue, under PRC terms," it said.
China would also try to deter potential US intervention "in any Taiwan contingency campaign," the report said. "Failing that, China would attempt to delay intervention and seek victory in an asymmetric, limited war of short duration."
"In the event of a protracted conflict, China might fight to a standstill and pursue a political settlement," it added.
Taipei yesterday called on Beijing to cherish the hard-earned peace and stability in the Taiwan Strait and the region.
Stability and peace across the Taiwan Strait is the responsibility and goal that both sides own their people, Presidential Office spokesman Sidney Lin (林鶴明) said, adding that people on both sides, as well as the rest of world, expect regional peace to be maintained.
The military is closely monitoring all movements by the PLA in real time, he said.
"Every effort is being made to ensure the safety of the nation," Lin said.
Separately yesterday, Minister of National Defense Yen De-fa (嚴德發), who was presiding over the National Defense University's graduation ceremony, said the military's primary focus is to increase the fighting capabilities of all branches of the armed forces.
Training and preparations should be focused on actual combat, with a heavy focus on defensive operations, he said, adding that military personnel should "train where they fight and train as they fight."
"Only we can be counted on to save our nation, and indigenous shipbuilding and airplane building programs will help establish the research and development capability of our national defense industry," Yen said.
With increased demand, the programs could create a positive loop between the nation's economy and defense industry, he said.
Comments will be moderated. Keep comments relevant to the article. Remarks containing abusive and obscene language, personal attacks of any kind or promotion will be removed and the user banned. Final decision will be at the discretion of the Taipei Times.