Hotel drops Marriott for caving in to China
The owner of a Starwood-branded hotel in New Taipei City's Jhonghe District (中和) yesterday said it would terminate its contract with Marriott International in protest over the US group caving in to Chinese pressure to list Taiwan as part of China.
Marriott was strongly criticized by Chinese authorities in January for listing Taiwan — along with Tibet and Hong Kong — as separate countries on its Web sites.
After the Chinese government shut down Marriott's local Web site for a week, the hotel chain apologized and changed the listing to "Taiwan, China."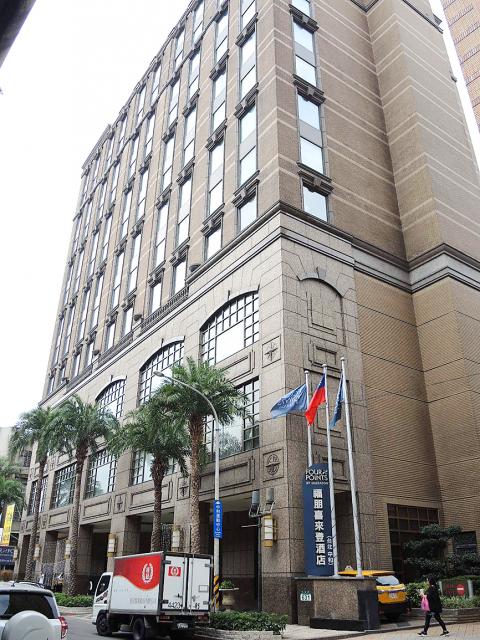 The Four Points by Sheraton Taipei, Zhonghe, is pictured in New Taipei City's Jhonghe District yesterday.
Photo: Weng Yu-huang, Taipei Times
The Four Points by Sheraton Taipei, Zhonghe (台北中和福朋喜來登酒店), which was owned by RSL Corp (瓏山林), used an advertisement on the front page of the Chinese-
language Liberty Times (the Taipei Times' sister paper) to announce that it would terminate its franchise agreement with the parent group.
"We are sternly protesting against Marriott International unilaterally listing our hotel as 'Taiwan, China'" on the simplified Chinese version of a booking Web site for members, the ad read, adding that the firm would "dissolve" its contract.
The traditional Chinese option on the Web site still lists the nation as "Taiwan."
Four Points by Sheraton business hotel brand, under the Starwood brand, was bought by Marriott in 2016.
Lily Cheng (程麗莉), a spokeswoman for the Zhonghe hotel, told Agence France Presse that its name would be changed and it would no longer take reservations from Marriott's booking system.
"Of course, it will cause some impact, but our main customers are corporates, and Taiwanese, and other booking Web sites," she said.
Marriott did not immediately respond to a request for comment.
RSL also owns the RSL Cold and Hot Springs Resort Suao (瓏山林蘇澳冷熱泉度假飯店) in Yilan County's Suao Township (蘇澳).
The move by the Zhonghe hotel comes just a week after the Four Points by Sheraton Linkou (林口亞昕褔朋喜來登飯店) in New Taipei City's Linkou District (林口) faced threats of a boycott from Taiwanese netizens for listing Taiwan as "Taiwan, China" next to the Chinese flag on its Wi-Fi login page.
The Linkou hotel, a joint venture between Marriott International and Taipei-based YeaShin International Development Co (亞昕國際開發), had its soft opening on July 30.
Comments will be moderated. Keep comments relevant to the article. Remarks containing abusive and obscene language, personal attacks of any kind or promotion will be removed and the user banned. Final decision will be at the discretion of the Taipei Times.