MOFA stands by 'comfort women'
'EXTREME DISAPPOINTMENT': 'Comfort women' statues do not conform with the Japanese government's position or efforts, the Japanese chief Cabinet secretary told reporters
The Ministry of Foreign Affairs yesterday reiterated its unwavering stance on the issue of "comfort women," after Japan expressed "extreme disappointment" over the installation of Taiwan's first bronze statue honoring comfort women in Tainan.
"The government has always paid close attention to the issue of comfort women. Our stance on the matter, as well as our policy to fight for their dignity, remains unchanged," ministry spokesman Andrew Lee (李憲章) said in a news release, adding that negotiations with Japan on the matter would continue.
The government did not play a part in the erection of the statue by a civic group in Tainan on Tuesday to mark International Comfort Women Day, Lee added.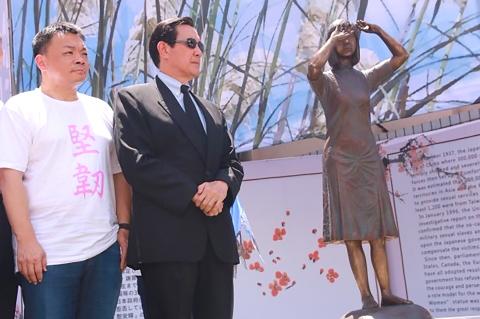 Former president Ma Ying-jeou, second left, takes part in a ceremony in Tainan to unveil the nation's first "comfort women" statue on Tuesday.
Photo courtesy of Chinese Nationalist Party (KMT) Tainan mayoral candidate Kao Su-po
The ministry's remarks came just hours after Japan Broadcasting Corp (NHK) reported that Japanese Chief Cabinet Secretary Yoshihide Suga lamented the statue's installation during a news conference after a Cabinet meeting in Japan.
"The establishment and exhibition of comfort women statues in various parts of the world is extremely disappointing, as it is not compatible with the position and efforts of the Japanese government so far," Suga was quoted by the NHK as saying.
The statue in Tainan, which stands on an open space next to the Chinese Nationalist Party's (KMT) Tainan chapter office, was erected by the non-profit Tainan Association for Comfort Women's Rights, with assistance from the KMT.
Some Japanese media have speculated that the move was motivated by Taiwan's nine-in-one elections in November, and was part of the KMT's efforts to criticize the generally friendly stance of the Democratic Progressive Party administration toward Japan.
The Taipei Women's Rescue Foundation estimates that about 2,000 Taiwanese women were forced into sexual slavery by the Imperial Japanese Army during World War II.
The Asian Women's Fund — a quasi-public organization established by the Japanese government in 1995 to address the issue through "atonement" projects, before dissolving it in 2007 — had tried to offer Taiwanese victims compensation of ¥2 million (US$18,014 at the current exchange rate) per person and a letter of apology.
However, some Taiwanese victims refused to accept the money as they felt it did not show that the Japanese government was taking responsibility for their actions.
The Japan-Taiwan Exchange Association in Taipei yesterday declined to comment on the matter, saying only that the Japanese government had tried to address the issue through various measures taken by the Asian Women's Fund.
Comments will be moderated. Keep comments relevant to the article. Remarks containing abusive and obscene language, personal attacks of any kind or promotion will be removed and the user banned. Final decision will be at the discretion of the Taipei Times.