Amid Chinese ire, 85°C backs 'consensus'
'INFURIATING': The bakery chain said its support for the '1992 consensus' has not changed and thanked Beijing for incentives that have eased the company's access to China
Taiwan-based bakery cafe 85°C (85度C) yesterday declared its support of the so-called "1992 consensus" and the peaceful development of cross-strait ties after Chinese netizens threatened to boycott the chain after one of its branches in the US allegedly welcomed President Tsai Ing-wen (蔡英文) with a customized gift package.
The company's statement on its Chinese-language Web site came one day after China's state-owned Global Times, in an online article, denounced a Los Angeles 85°C outlet for giving Tsai a gift bag when she stopped by for coffee on Sunday, calling it "infuriating."
Tsai made a transit stop in Los Angeles en route to Paraguay and Belize, a move that has drawn ire from Chinese authorities.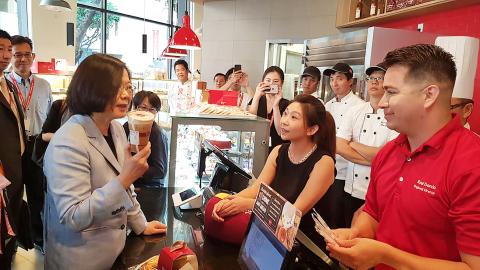 President Tsai Ing-wen, left, buys a drink at a 85°C Bakery Cafe in Los Angeles, California, on Sunday. The photograph was posted on Monday on Facebook by Democratic Progressive Party Legislator Tsai Shih-ying.
Photo courtesy of Tsai Shih-ying
She is to transit through Houston, Texas, on her return trip.
"It appears that 85°C is supportive of Tsai's policies; at least it does not oppose them... If the company is trying to rake in Chinese money on one hand while supporting Taiwanese independence on the other, such behaviors will not be accepted and should be despised," the article quoted Chinese American Federation honorary chairman Lu Qiang (鹿強) as saying.
Bakery cafe 85°C was established in 2003 by Wu Cheng-hsueh (吳政學), a native of Yunlin County. It later expanded to China, the US and Australia, and has more than 1,000 branches worldwide.
"Our company's firm support for the 1992 consensus has never changed," 85°C said in its statement.
"We oppose any conduct or rhetoric that could drive people on either side of the Taiwan Strait apart. We will continue to provide high-quality products and service to customers on both sides based on the belief that the two sides of the Strait are one family," the company said.
Dismissing the Global Times' allegation that Tsai received a customized gift package, the bakery chain said it was just a pillow that a staff member asked Tsai to sign for their personal collection.
"It was not a customized gift package we prepared in advance, as the media alleged," the company said.
The company also said it was grateful to Beijing for its measures for Taiwanese, which it said have allowed it to expand in China in a smooth and orderly manner.
Presidential Office spokesman Alex Huang (黃重諺) said the government denounces any actions that could disturb market order and suppress freedom of speech.
"Forcing one's own ideologies on an international corporation is not something that should occur in a civil society," Huang said.
The Mainland Affairs Council said it is natural and normal for the president to visit Taiwanese businesses overseas.
"[Beijing's] pressuring of Taiwanese businesses into making political statements is a base move that will not be accepted by Taiwanese," the council said, adding that China's actions are not conducive to creating positive cross-strait interactions, nor would it attract Taiwanese investment in China.
The '1992 consensus' refers to a tacit understanding between the Chinese Nationalist Party (KMT) and the Chinese Communist Party that both sides of the Taiwan Strait acknowledge there is "one China," with each side having its own interpretation of what "China" means.
Additional reporting by Su Yung-yao
Comments will be moderated. Keep comments relevant to the article. Remarks containing abusive and obscene language, personal attacks of any kind or promotion will be removed and the user banned. Final decision will be at the discretion of the Taipei Times.