Taiwan grateful to US for defense act
PARTNERSHIP: The US is no longer indifferent to US-Taiwan issues as Washington is now of the opinion that China should be contained, a National Policy Foundation fellow said
Taiwan yesterday thanked the US for its continual support after US President Donald Trump on Monday signed the National Defense Authorization Act for fiscal year 2019, which includes two provisions pertaining to Taiwan.
Taiwan would "continue to act in conjunction with the US government to stabilize and deepen the security partnership between Taiwan and the US in a mutually beneficial way," the Ministry of Foreign Affairs said.
President Tsai Ing-wen (蔡英文), who arrived in Los Angeles on Sunday to make a transit stop before continuing on to Paraguay and Belize, also conveyed her gratitude to US officials in a meeting on Monday.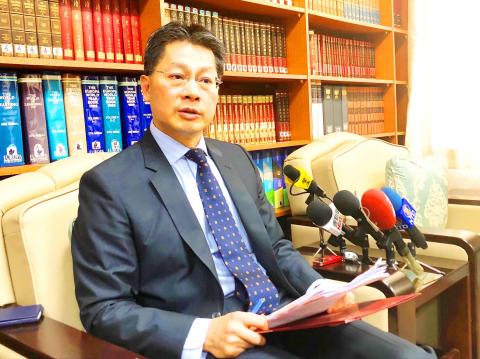 Ministry of Foreign Affairs spokesman Andrew Lee, talking to reporters at the ministry in Taipei yesterday, expresses Taiwan's gratitude after US President Donald Trump signed the National Defense Authorization Act for fiscal year 2019.
Photo: Lu Yi-hsuan, Taipei Times
Taiwan's national defense spending would continue to increase and the use of special budgets would be approved in the case of important purchases, Tsai said.
Trump signed the defense policy bill into law, authorizing US$716 billion in total military spending for the coming fiscal year.
The John S. McCain National Defense Authorization Act for fiscal year 2019 was named in honor of the senator who is battling brain cancer.
Section 1257 stipulates that the US secretary of defense should conduct a comprehensive review of Taiwan's military forces, with appropriate consultation with Taiwanese counterparts, and submit a congressional committee report together with the US secretary of state no later than a year after the date of enactment.
In Section 1258, Congress details seven points supporting the aim of improving Taiwan's combat readiness, including reaffirming the Taiwan Relations Act and the "six assurances" as cornerstones of US relations with Taiwan.
The new legislation says the US should strengthen defense and security cooperation with Taiwan; support Taiwan's acquisition of defensive weapons through foreign military sales, direct commercial sales and industrial cooperation; and improve the predictability of arms sales to Taiwan by ensuring timely review of and response to requests from Taiwan for defense articles and services.
It also suggests that the secretary of defense send a US hospital ship to Taiwan as part of the annual Pacific Partnership mission, to improve disaster response planning and preparedness.
"My administration will treat these provisions consistent with the president's exclusive constitutional authorities as commander in chief and as the sole representative of the nation in foreign affairs, including the authorities to determine the terms upon which recognition is given to foreign sovereigns, to receive foreign representatives, and to conduct the nation's diplomacy," Trump said in a statement released by the White House after the bill's signing.
Ministry of National Defense spokesman Major General Chen Chung-chi (陳中吉) yesterday also relayed the ministry's thanks to the US for its long-time support of Taiwan's regional role as peacekeeper and proponent for stability.
Chen quoted from Confucius' "Virtue is not left to stand alone," saying that the Taiwanese public and military would stand together in the face of adversity.
The US is no longer indifferent to US-Taiwan issues as Washington is now of the opinion that China should be contained, said Chieh Chung (揭仲), a senior assistant research fellow at the National Policy Foundation, adding that US-Taiwan relations could continue to progressively yield more interaction and exchanges between top defense officials.
While the defense legislation looks similar to past versions, it is highly possible, under the current mood in the US, that Trump's administration might use the act as a basis to encourage US-Taiwan military ties, he said.
Senior navy commander Lu Li-shih (呂禮詩), former captain of a Jin Jiang-class patrol vessel, recommended that Taiwan should actively seek to participate in next year's annual trilateral Exercise Malabar.
Meanwhile, the Chinese Ministry of Defense said the legislation "exaggerated Sino-US antagonism," damaged trust between the two militaries and involved the most important and sensitive issue in bilateral ties, namely Taiwan.
"We will never let any person, at any time or in any form, split Taiwan off from China," it added.
Additional reporting by Aaron Tu and Reuters
Comments will be moderated. Keep comments relevant to the article. Remarks containing abusive and obscene language, personal attacks of any kind or promotion will be removed and the user banned. Final decision will be at the discretion of the Taipei Times.