Tsai off on nine-day trip
PROMOTING TAIWAN: Before leaving on a flight to Los Angeles, the president said her trip would allow the world to see the nation and its support for democracy and freedom
President Tsai Ing-wen (蔡英文) left yesterday on a nine-day trip that is to take her to Paraguay and Belize, with stopovers in the US.
Tsai made a brief statement at Taiwan Taoyuan International Airport, saying that it is her duty as the president to conduct diplomacy on the nation's behalf.
"In going abroad, the whole world can see Taiwan; they can see our nation as well as our support for democracy and freedom," Tsai said. "We only need to be firm so that no one can obliterate Taiwan's existence."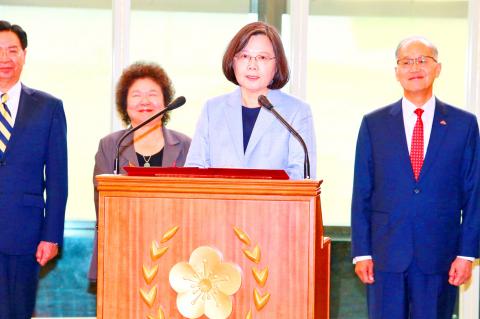 President Tsai Ing-wen speaks at Taiwan Taoyuan International Airport yesterday before boarding a flight to Los Angeles, watched by, from left, Minister of Foreign Affairs Joseph Wu, Presidential Office Secretary-General Chen Chu and National Security Council Secretary-General David Lee.
Photo: CNA
Tsai said she has three messages to convey during her trip: Taiwan would congratulate its diplomatic allies and thank them for their time-honored friendship and support in the international arena; it would continue its development of ties with other nations; and her administration would strive to strengthen Taiwan and safeguard its free and democratic values.
Tsai was scheduled to arrive in Los Angeles at about noon yesterday and stay overnight before departing for Paraguay today; she is to transit through Houston, Texas, on her way home from Belize.
Many people will be watching to see if Tsai is treated differently during her transit stops or has more interaction with politicians than in the past, given that US President Donald Trump signed the Taiwan Travel Act into law in March.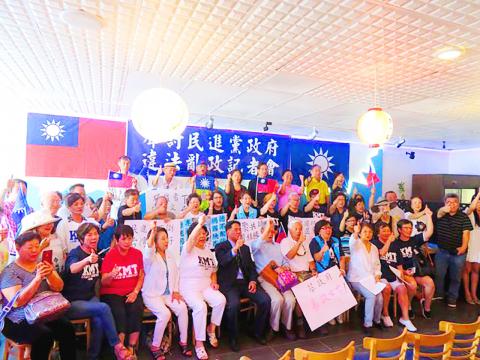 Members of the Chinese Nationalist Party (KMT) southwestern US chapter attend a news conference in Los Angeles, California, on Saturday.
Photo: CNA
The act allows high-level US officials to visit Taiwan and vice versa, in contrast to previous US policy that did not allow bilateral visits by Cabinet-level officials, but did allow Taiwanese presidents to transit through US cities on visits to third countries.
Tsai is to attend the inauguration of Paraguayan president-elect Mario Abdo Benitez on Wednesday as part of a three-day visit.
She is to fly to Belize on Thursday for a three-day visit, during which she is to be decorated by Governor-General Colville Young, visit Belizean Prime Minister Dean Barrow and give a speech to parliament.
Tsai is scheduled to leave Belize on Aug. 18 and make a 27-hour stopover in Houston before arriving home on Aug. 20.
Presidential Office Secretary-General Chen Chu (陳菊) is accompanying Tsai on the flight to Los Angeles, but is to stay in the US when Tsai heads for Paraguay.
Chen is to visit five US cities before she rejoins Tsai in Houston.
The Taiwan Center Foundation of Greater Los Angeles is organizing a welcoming party for Tsai, foundation chairman Alan Thian (田詒鴻) said on Saturday, adding the party is expected to draw more than 1,000 Taiwanese expatriates.
However, Chinese expatriate groups in the city said that they were mobilizing at least 500 people to demonstrate outside Tsai's hotel and would rent an airplane to fly a banner reading "Only One China. Taiwan is a part of China" over central Los Angeles.
Foundation chief executive officer Lin Jung-sung (林榮松) said he believes that Chinese immigrants come to the US because they want to enjoy the US' freedoms and democracy.
"It is quite strange that Chinese immigrants are focusing their outrage on Tsai, a democratically elected head of state, instead of protesting the unfree dictatorship in China," he said.
Hsieh Tsung-huang (謝宗煌), a Chinese Nationalist Party (KMT) official at the party's southwestern US chapter, on Saturday said that while the KMT disagrees with the policies of the Tsai administration, it has had no hand in the protests planned in the US.
"We do not collaborate with China to protest our own president," he told a news conference organized with several pan-blue Taiwanese-American groups.
Comments will be moderated. Keep comments relevant to the article. Remarks containing abusive and obscene language, personal attacks of any kind or promotion will be removed and the user banned. Final decision will be at the discretion of the Taipei Times.