Palace Museum should be more local: new boss
The National Palace Museum (NPM) should reflect the history of East Asia from a Taiwan-
centric perspective to make it more relatable to Taiwanese, instead of allowing it to remain "a Chinese enclave," newly inaugurated museum Director Chen Chi-nan (陳其南) said yesterday.
"Ask an Aborigine, a direct descendant of the earliest inhabitants of this land, to visit the museum and tell you if they feel the museum represents them, and none of them will say it does. The museum as it is now is a Chinese enclave and not a part of Taiwan," Chen told a news conference in Taipei a day after his inauguration.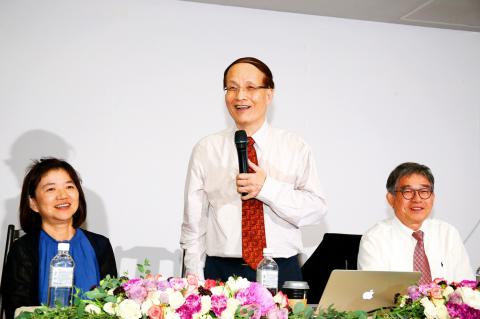 Newly appointed National Palace Museum Director Chen Chi-nan, center, accompanied by deputy directors Lee Ching-hui, left, and Huang Yung-tai, speaks at a news conference at the museum in Taipei yesterday.
Photo: Chen Yi-kuan, Taipei Times
His vision is to transform it into a Taiwanese museum by reinterpreting the objects on display and curating its exhibitions in a way that tells the history of East Asia from a Taiwanese perspective, he said.
The museum's most famous artifacts had been transported to Taiwan by the Chinese Nationalist Party (KMT) government during the Second Sino-Japanese War, he said.
"Due to this historical coincidence, it has now become our responsibility to protect and preserve them. How much we value ancient civilizations is unrelated to their modern successors," he said, adding that the cultural assets should be cherished, regardless of one's political views.
Museums should be inclusive, which is why some of the finest artifacts from ancient Greece are housed in the UK and Germany, he said.
The NPM should follow the example of the British Museum in diversifying its exhibitions and celebrating cultural assets from other ancient civilizations, he said.
If granted a large enough budget, Chen said he hopes to expand the museum's southern branch in Chiayi County to house exhibitions depicting Taiwan's relations with other countries throughout history, such as Spain, Portugal and the Ryukyu Kingdom, he said.
"The problem with the southern branch is its location, which is not close to any urban area. We must have exhibitions on a wide range of themes that would take more than one day to see to attract visitors to go [out of their way to the museum]," he added.
While the National Palace Museum has stepped up its marketing efforts to target younger people, Chen said he would work to find the perfect balance between preserving tradition and appealing to young people.
"We will not go back to the old, traditional ways of promoting the museum, but we will not turn it into an amusement park just to attract visitors either," he said.
When asked if the museum would consider collaborating with Beijing's Palace Museum, Chen said: "We are happy to cooperate, if they are willing."
However, Beijing might not be open to working with him because of his political views, he said.
Comments will be moderated. Keep comments relevant to the article. Remarks containing abusive and obscene language, personal attacks of any kind or promotion will be removed and the user banned. Final decision will be at the discretion of the Taipei Times.