Lien Chan says no room for Taiwanese independence in talks with Xi Jinping
There is no room for Taiwanese independence, because the nature of the cross-strait relationship is not one between two nations, former vice president Lien Chan (連戰) said yesterday in a meeting with Chinese President Xi Jinping (習近平), calling for ties to be furthered based on the so-called "1992 consensus."
Yesterday's meeting, the fourth between the two since 2013, took place at the Great Hall of the People in Beijing.
Addressing each other as "chairman," Lien and Xi shook hands before each made remarks at the meeting, which was open to the media for only the first 15 minutes, with the remainder conducted behind closed doors.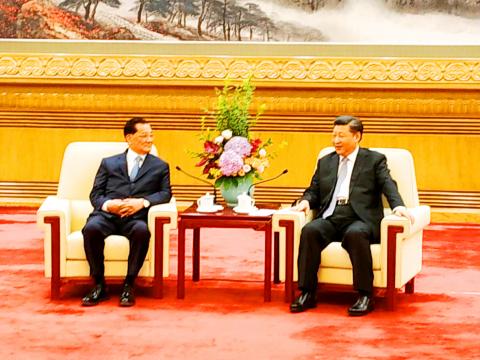 Chinese President Xi Jinping, right, speaks with former vice president Lien Chan at the Great Hall of the People in Beijing yesterday.
Photo: CNA
The current complicated and dire situations facing cross-strait ties have concerned many on both sides of the Taiwan Strait, Xi said.
"Nevertheless, I still believe that when the 'Great Way' prevails, it corresponds with the will of the people and the irresistible trend of the times," Xi said. "We have always paid close attention to the trend of history and we know in which direction it is heading."
With China's rise to power, Beijing is now closer than ever to reaching its two centennial goals and the objective of reinvigorating the Zhonghua minzu (Chinese ethnic group, 中華民族), he said.
As long as both sides calibrate historical coordinates and hold the steering wheel tightly, "the historical ship of peaceful cross-strait development and unification is bound to sail toward the shore of victory," Xi said.
From 2008 to 2016, both sides of the Taiwan Strait were able to engage in practical negotiations and close communication on the basis of the "1992 consensus," while no interactions were seen between North and South Korea, said Lien, who was Chinese National Party (KMT) chairman from 2000 to 2005.
However, the situations have been reversed, with cross-strait relations locked in a stalemate, but a glimmer of hope for peace emerging on the Korean Peninsula, he said.
At the meeting, Lien proposed four ideas to improve cross-strait ties and maintain stability in the region, including that both sides "find common ground on the 'one China' principle, while preserving their differences on the meaning of 'one China,'" Lien's office said in a news release.
"Both of our legal and governance systems were built following the 'one China' structure. That is why cross-strait relations are not state-to-state relations and there is no room for Taiwanese independence," Lien said.
The "1992 consensus" was designed to allow both sides to find common ground and preserve their differences, Lien said, adding that based on past experiences, Taipei and Beijing are capable of building political trust, restarting dialogue and resolving hurdles to Taiwan's international participation.
He said he hopes that both sides could jointly strive for the well-being of their people and build a peaceful and prosperous Taiwan Strait, engage in mutually beneficial cooperation to facilitate cross-strait integration and advance people's rights and livelihood to reinvigorate the Zhonghua minzu.
Despite having been colonized by three foreign powers, Taiwanese remain unwavering in their adherence to Chinese culture and its national standpoint, he added.
"Being Taiwanese and being Chinese is not mutually exclusive, and that is the fundamental emotional foundation for the peaceful development of cross-strait ties," Lien said.
In Taipei, Democratic Progressive Party Legislator Chao Tien-lin (趙天麟) pointed to the KMT's failure to come up with a clear discourse on cross-strait issues, saying that Lien's comments would "cause the KMT's road to become narrower."
Additional reporting by Su Fang-ho and CNA
Comments will be moderated. Keep comments relevant to the article. Remarks containing abusive and obscene language, personal attacks of any kind or promotion will be removed and the user banned. Final decision will be at the discretion of the Taipei Times.