Maria injures eight, cuts power
RESTORATION: Taipower hoped to restore power to the remaining 3,435 households yesterday, while Taoyuan airport aims to fly all delayed passengers by this morning
Eight people sustained minor injuries in Taipei and 59,485 households lost power on Tuesday night as the northern part of the nation was brushed by Typhoon Maria, the Central Emergency Operation Center said yesterday.
The center gave its last disaster briefing at 2:25pm.
"Everyone braved the typhoon and its aftermath with humility. God bless Taiwan that the typhoon did not cause too much damage," Minister of Interior Yeh Jiunn-rong (葉俊榮) said, announcing that the center's ad hoc emergency response team had been dismissed.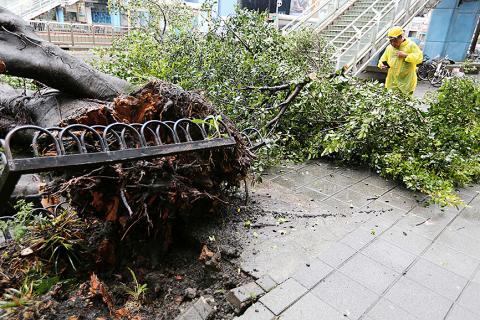 A worker yesterday takes a photograph of an uprooted tree in Taipei.
Photo: Eason Lam, Reuters
As of 2:30pm, electricity remained inaccessible at 3,435 households in Taipei, New Taipei City and Taoyuan, as well as Hsinchu, Miaoli and Lienchiang counties.
Taiwan Power Co (Taipower, 台電) planned to resume power in all households by 11pm yesterday, the Ministry of Economic Affairs said.
Among the eight injured, three were hit by falling branches, three fell off motorbikes, one was injured by glass that fell from a building and the last fell down on the street.
Meanwhile, 941 people remained in shelters in New Taipei City, Taoyuan and Taichung, as well as Hsinchu, Miaoli, Yilan, Hualien and Lienchiang counties.
The Central Weather Bureau at 2:30pm lifted sea and land alerts, but kept a heavy rainfall warning for Yilan, Hualien and Lienchiang counties, as well as Keelung and New Taipei City.
All rail services resumed normal operations yesterday morning, while Taiwan Taoyuan International Airport added more flights for passengers who missed canceled flights. Taoyuan International Airport Corp said it hopes to transport all affected passengers by this morning.
As of 1pm, 40 schools across the nation were reported to have been damaged, with the total losses estimated at NT$1.09 million (US$35,760), the Ministry of Education said.
Most of the damaged schools are in New Taipei City, where 21 schools are in need of repair, with losses estimated at about NT$940,000, the ministry said.
Taipei schools suffered the second-highest losses of about NT$130,000, with eight schools damaged, followed by Keelung, where four schools were damaged at an estimated cost of NT$6,000, it said.
Jinshan Elementary School had the greatest losses of about NT$350,000, followed by Yeliou Elementary School at NT$210,000 and Laomei Elementary School at NT$100,000, all of which are in New Taipei City, it said.
No students or faculty members were injured, it said, adding that a summer camp field trip held by Taichung's Guangfu Elementary School scheduled to take place in the mountains yesterday was canceled.
Additional reporting by Ann Maxon
Comments will be moderated. Keep comments relevant to the article. Remarks containing abusive and obscene language, personal attacks of any kind or promotion will be removed and the user banned. Final decision will be at the discretion of the Taipei Times.