Typhoon downgraded; work, classes canceled
Super Typhoon Maria weakened to a medium-strength typhoon after its approach yesterday and all typhoon-related warnings are to be lifted today, the Central Weather Bureau said yesterday.
Maria's outer edge made landfall yesterday at 5pm, with its center 310km off the coast of Yilan County, the bureau said, adding that contact with land had weakened it.
The storm would no longer pose any danger by about noon and the sea alert would be lifted by evening, the bureau said.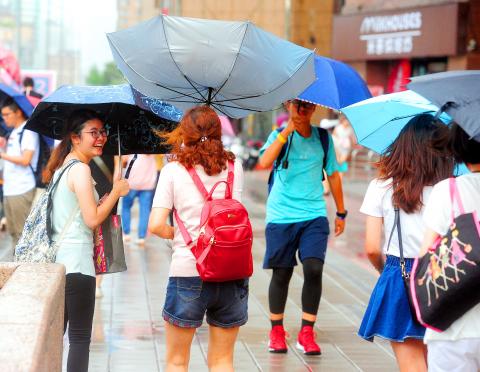 A woman laughs as her friend's umbrella is blown inside-out in Taipei yesterday afternoon as Typhoon Maria began to affect northern Taiwan.
Photo: Wang Yi-sung, Taipei Times
New Taipei City, Taoyuan, Hsinchu City and County, Yilan County, Miaoli County and Lienchiang County have canceled work and classes for today.
Yilan County canceled work and classes after 3pm yesterday, with offices and schools in Taipei closing from 4pm due to the expectation of strong winds and heavy rain between yesterday evening and this morning.
Civil Aeronautics Administration statistics showed that 118 domestic flights were canceled by 6pm yesterday, while 181 cross-strait and international flights were canceled and 24 were delayed.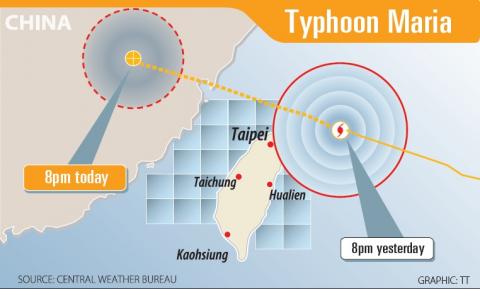 Seventy-two shipping services across the Taiwan Strait were canceled throughout the day yesterday, the Maritime and Ports Bureau said, adding that 144 shipping services are to be canceled today.
The high-speed rail system operated as scheduled yesterday and is to continue normal operations today, but the Taiwan Railways Administration adjusted schedules for express trains departing after 4pm on the west and east coast lines.
Taipei Rapid Transit Corp increased train services yesterday as some Taipei Mass Rapid Transit (MRT) stations were inundated with homebound passengers.
The Taiwan Taoyuan International Airport MRT Line stopped in-town check-in services at 3pm.
The express train services also closed early, with the last train departing from the Taipei Railway Station at 7pm.
The announcement to cancel work and classes yesterday was made at 10am, as Taipei Mayor Ko Wen-je (柯文哲) arrived at the city's grade-one disaster emergency operation center at 9am to host an administrative meeting and monitor disaster prevention efforts.
During the meeting, Taipei Department of Personnel Director Cherng Been-ching (程本清) said the decision to close offices and schools after 4pm was made in coordination with New Taipei City and Keelung.
The wind speed expected between 1pm and 6pm yesterday did not exceed the standard for suspending work and school, but considering that national examinations were to end at about 3pm and winds were forecast to be strong at rush hour, the municipalities decided to suspend school and work at 4pm, Cherng said.
Garbage collection services in Taipei were suspended last night in consideration of the safety of residents and sanitary workers, Taipei Department of Environmental Protection Commissioner Liou Ming-lone (劉銘龍) said, adding that the decision whether garbage collection is to be provided today would be announced at 11am.
Comments will be moderated. Keep comments relevant to the article. Remarks containing abusive and obscene language, personal attacks of any kind or promotion will be removed and the user banned. Final decision will be at the discretion of the Taipei Times.