First four boys brought out of Thai cave
D-DAY: Chiang Rai Province's acting governor said that 13 foreign and five Thai divers were taking part in the rescue and that two divers would accompany each boy out
Four boys among a group of 12 trapped inside a flooded Thai cave with their assistant soccer coach for more than two weeks have been rescued, Thai authorities said last night. Eight boys and the coach remained inside the Tham Luang Nang Non cave complex.
A defense ministry official had earlier told AFP six boys had made it out, but rescue chief Narongsak Osottanakorn and the Thai Navy SEALS — who are involved in the rescue and have regularly posted updates about the operation on their Facebook page — later last night reported only four were out of the cave.
The boys emerged about nightfall from the cave complex after navigating a treacherous escape route of more than 4km through twisting, narrow and jagged passageways. The rescued boys were rushed to hospital.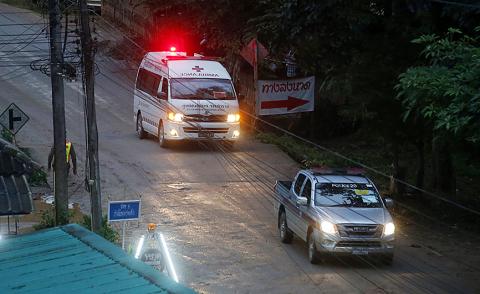 One of two ambulances yesterday leave the Tham Luang cave area in northern Thailand hours after an operation began to rescue trapped youth soccer players and their coach, in Mae Sai, Chiang Rai Province.
Photo: AP
Narongsak said they were safe, but no other details were given about their conditions.
He said late last night that the rescue mission would not start again for at least another 10 hours to give time for oxygen and other supplies to be replenished.
Foreign elite divers and Thai Navy SEALS yesterday morning began the extremely dangerous extraction operation as they raced against time, with imminent monsoon rains threatening more flooding that would doom the rescue operation.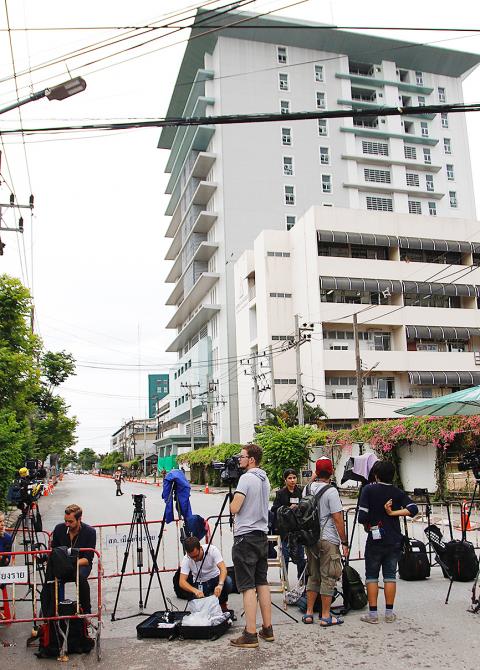 Journalists yesterday wait for the arrival of rescued soccer players and their coach outside a hospital in Chiang Rai Province, Thailand.
Photo: EPA-EFE
Helicopters and several ambulances were seen departing from the cave area, though there was no official announcement of whom they were carrying.
Officials had said earlier that helicopters were on standby to take anyone rescued from Tham Luang Nang Non cave in Chiang Rai Province to a hospital.
"Today is the D-day. The boys are ready to face any challenges," Narongsak told reporters near the cave site yesterday morning.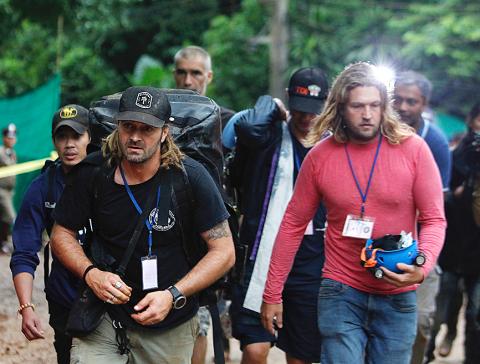 Finnish diver Mikko Paasi, left, takes part in rescue operations to save a soccer team at Tham Luang cave in Thailand's Chiang Rai Province yesterday morning.
Photo: EPA-EFE
The group became trapped in a cramped chamber deep inside Tham Luang in a mountainous area of northern Thailand on June 23, when they went in after soccer practice and got caught behind rising waters.
Their plight transfixed Thailand and the rest of the world, as authorities struggled to devise a plan to get the boys — aged between 11 and 16 — and their 25-year-old coach out.
Another official involved in the rescue operation said the initial four who had been saved formed a first group. A second group made up of the others had also begun the journey from the chamber where they had been trapped, a rescue worker said.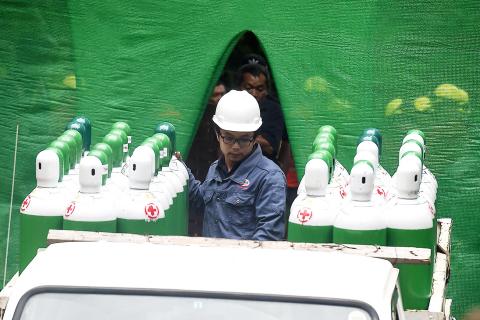 Rescue team members move air tanks at the Tham Luang cave area in Thailand's Chiang Rai Province yesterday.
Photo: AFP
The quick extraction came as a surprise after one of the operation commanders said yesterday morning that the rescue efforts could take several days to complete.
Shortly before announcing that the rescue was under way at 10am, authorities ordered the throngs of media that have gathered at the cave from around the world to leave.
After a short deluge of rain on Saturday night and with more bad weather forecast, Narongsak yesterday said authorities had to act immediately.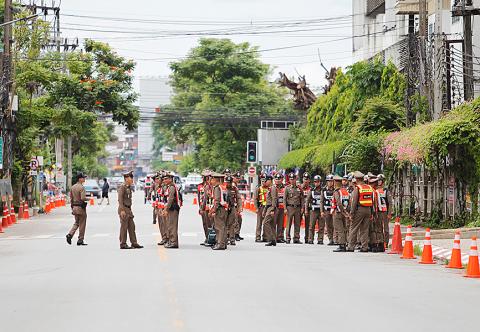 Police are deployed yesterday ahead of the arrival of the rescued soccer players and their assistant coach at a road outside the hospital in Chiang Rai Province, Thailand.
Photo: EPA-EFE
"There is no other day that we are more ready than today," he said. "Otherwise we will lose the opportunity."
Narongsak had said on Saturday that experts told him water from new rain could shrink the unflooded space where the boys are sheltering. He said two divers would escort each of the boys out of the cave.
Additional reporting by AP
• This report has been updated to correct the number of boys rescued, after initial reports on Sunday night quoted a Thai defense ministry official as saying that six boys had been rescued.
Comments will be moderated. Keep comments relevant to the article. Remarks containing abusive and obscene language, personal attacks of any kind or promotion will be removed and the user banned. Final decision will be at the discretion of the Taipei Times.