Taiwan, US to share defense research
PRESTIGE: KMT Legislator Lu Yu-ling said that aside from improving ties with the US, the exchanges could help raise the nation's position on the international stage
Taipei and Washington have signed an agreement to share information on scientific research that would allow representatives of Taiwan's research institutions, including the Chungshan Institute of Science and Technology and the Ministry of National Defense's Armaments Bureau, to visit national defense research institutions and laboratories in the US next year, an unnamed senior military official said yesterday.
Such US facilities have never been open to Taiwanese researchers, the official said, adding that the deal would greatly benefit Taiwan's self-defense capabilities, including the domestic production of military vessels and aircraft.
Cooperation with the US is expected to shorten the institute's development and production time and could provide a breakthrough, as well as reduce the time needed for ongoing enhancement programs for the Tien Kung ("Sky Bow") surface-to-air missile, the Tien Chien ("Sky Sword") air-to-air missile and the Hsiung Feng ("Brave Wind") anti-ship missile systems, the source said.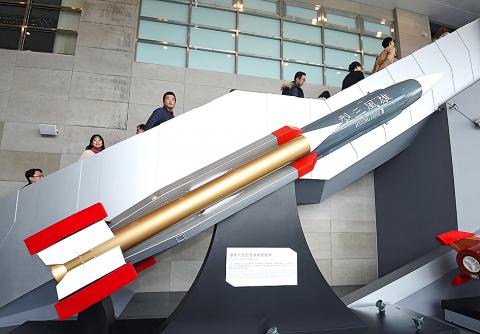 A Hsiung Feng III ("Brave Wind") anti-ship missile is displayed at the Chungshan Institute of Science and Technology in Taoyuan on Dec. 29 last year.
Photo: Liu Hsin-de, Taipei Times
It could also help the institute cut costs, the official said, adding that the benefits are difficult to measure.
The official did not specify which facilities Taiwanese representatives would be allowed to visit, saying that would depend on US officials.
Taiwan's resources are limited, as the annual defense budget is only about US$10 billion, the official said, adding that as it is difficult to compete with China in terms of quantity, Taiwan needs to focus its resources on key projects.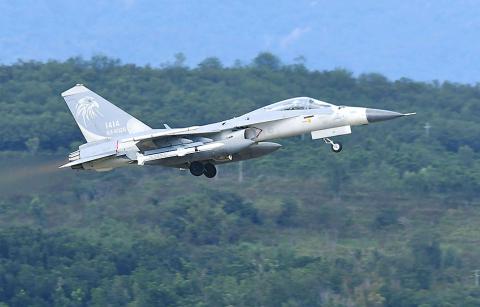 A F-CK-1 Ching-kuo carrying Tien Chien II ("Sky Sword") air-to-air missiles takes off from Chiashan Air Base in Hualien County on Dec. 23 last year.
Photo: Yu Tai-lang, Taipei Times
Although Taiwan is confident about its technological capabilities, the US is the world leader in the arms industry, said Democratic Progressive Party Legislator Wang Ting-yu (王定宇), coconvener of the Legislative Yuan's Foreign Affairs and National Defense Committee.
If Taiwanese and US researchers can visit each other, it would help Taiwan achieve breakthroughs in military technology, he said.
More importantly, exchanges between researchers are on a higher level than joint military exercises, Wang said, adding that they would symbolize close relations with the US.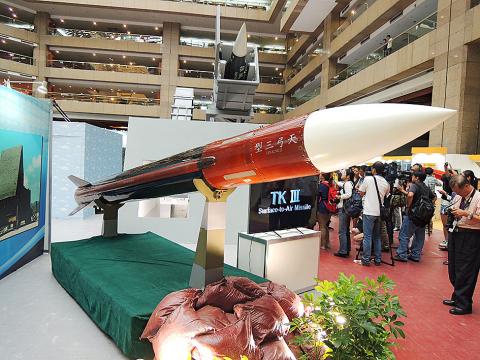 A Tien Kung III ("Sky Bow") surface-to-air missile sits on display in Taipei on Feb. 25 last year.
Photo: Lo Tien-pin, Taipei Times
The passage of US legislation that is advantageous to Taiwan, including parts of the latest National Defense Authorization Act and the Taiwan Travel Act, have created opportunities to facilitate equal and mutually beneficial exchanges between Taiwan and the US, said Chinese Nationalist Party (KMT) Legislator Lu Yu-ling (呂玉玲), the committee's other coconvener.
However, as Taiwan is in desperate need of actual assistance from the US, mutual exchanges between military research institutions would provide a significant boost to Taiwan's self-defense capabilities and the development of the domestic defense industry, she said.
As relations warm between North and South Korea, and North Korea and the US, Taiwan cannot become a bargaining chip in international relations, Lu said.
Aside from improving Taiwan-US relations, if Taiwan engages in further exchanges with the US military and research institutions, it could also improve the nation's self-defense capabilities, in turn elevating its importance and position on the international stage, she said.
Comments will be moderated. Keep comments relevant to the article. Remarks containing abusive and obscene language, personal attacks of any kind or promotion will be removed and the user banned. Final decision will be at the discretion of the Taipei Times.