New Party's Wang, others charged with espionage
New Party spokesman Wang Ping-chung (王炳忠), his father, and New Party youth wing executives Ho Han-ting (侯漢廷) and Lin Ming-cheng (林明正) were indicted yesterday after prosecutors said they found evidence of espionage and Chinese funding.
The three New Party defendants "had endangered national security and social stability by developing an organization for use by the Chinese government and its military" in contravention of the National Security Act (國家安全法), the Taipei District Prosecutors' Office said.
Wang's father, Wang Chin-pu (王進步), was charged with being an accessory to espionage and other illegal activities conducted by the other defendants.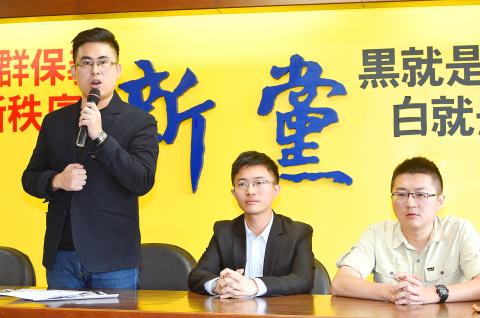 New Party Spokesman Wang Ping-chung, left, yesterday tells a news conference in Taipei that the Taipei District Prosecutors' Office has cooked up charges against him.
Photo: Cheng Hung-ta, Taipei Times
Prosecutors said they uncovered evidence of money transfers from China to the three party members to work with convicted Chinese spy Zhou Hongxu (周泓旭) in his efforts to infiltrate Taiwan's military and connect with Taiwanese politicians and youth organizations.
Zhou, a former graduate student at National Chengchi University, was Beijing's liaison and was also responsible for monitoring progress and collecting reports made by Wang Ping-chung, Ho and Lin.
Zhou had set up a "Star Fire Secret Unit" and gave the four of them code names: Wang Ping-chung was "One," Lin was "Two," Ho was "Three" and Zhou was "Four," the prosecution statement said.
Nine retired and active military officials were contacted to obtain classified materials, most of whom reportedly had links to the nation's weapons procurement programs, prosecutors said.
Documents belonging to Wang Ping-chung showed that he was already working with Chinese officials in 2013, before meeting Zhou, and had later written that officials from China's Taiwan Affairs Office had promised to provide him and Zhou up to NT$16 million (US$535,296 at the current exchange rate) a year for their work in Taiwan, they said.
Prosecutors said they had uncovered Wang Ping-chung's accounting ledgers that showed money transfers from Chinese sources, in addition to a work document on which Wang Ping-chung wrote: "[I will] work under the guidance and assistance of the Chinese Communist Party to unite and integration the forces working to achieve unification across the Taiwan Strait."
Wang Ping-chung allegedly cofounded the pro-unification Web site Fire News (燎原新聞網) with Zhou, which they used to recruit Taiwanese into their spy network.
The Taiwan High Court in April handed Zhou a 14-month prison sentence for attempting to recruit Taiwanese officials.
After the indictments were announced, Wang Ping-chung, Ho and Lin held a news conference in Taipei, at which Wang Ping-chung accused the prosecutors of "concocting a story" without any "smoking gun" evidence.
"If the judiciary has the guts, then I will ask for an open trial so that the public can see and judge for themselves," he said.
Lin accused the administration of "adopting the ways of Adolf Hitler's Nazi Party to crack down on dissidents."
Comments will be moderated. Keep comments relevant to the article. Remarks containing abusive and obscene language, personal attacks of any kind or promotion will be removed and the user banned. Final decision will be at the discretion of the Taipei Times.