Justice commission prioritizes CKS Hall
THREE OPTIONS: Chiang Kai-shek's statue will either be relocated, destroyed or stay in the hall as part of a 'negative heritage site,' commission member Yang Tsui said
Dealing with the National Chiang Kai-shek Memorial Hall tops the Transitional Justice Commission's to-do list, commission member Yang Tsui (楊翠) said yesterday.
Removing the hall's statue of Chiang Kai-shek (蔣介石) has been prioritized as the first step toward enacting the commission's mandate stipulated in the Act on Promoting Transitional Justice (促進轉型正義條例) to "remove all symbols of authoritarianism and preserve the sites of injustice," Yang said in an exclusive interview with the Liberty Times (sister newspaper of the Taipei Times), adding that discussions with the Ministry of Culture regarding the move are under way.
"The commission is mulling three options for the change: relocating the statue, designating the hall as a 'negative heritage site' or destroying the statue altogether," Yang said.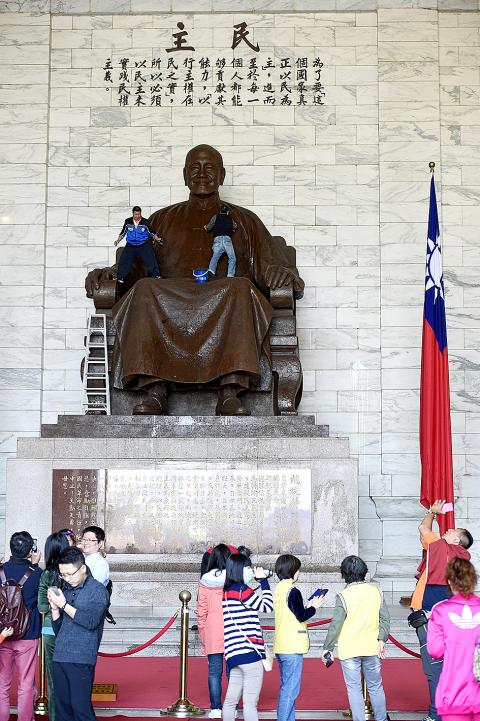 Visitors take photographs of the Chiang Kai-shek statue at the Chiang Kai-shek Memorial Hall in Taipei on Feb. 27, 2015, as staff clean eggs and paint that protesters hurled at the statue.
Photo: George Tsorng, Taipei Times
However, destroying the statue would create the risk that younger generations would not recognize Chiang, let alone see him as the authoritarian figure that he is, she added.
The commission is also mulling changes to the physical layout of the hall to portray a different look from the past authoritarian regime, especially in terms of historical memory, Yang said.
It would become a public space, where any visitor would immediately learn the historical truth about incidents in Taiwan and understand that Chiang was a dictator who presided over atrocities, Yang said.
They would be made to understand how the authoritarian regime operated and would be presented with memories, Yang said.
"The goal of the changes is to elucidate how Chiang should be remembered," Yang said, adding that regardless of which solution is adopted, Chiang would not continue to be worshiped.
"The statue, enshrined within the hall and treated like a god, will either be moved or undergo changes that would remove it as an icon of authoritarian worship," Yang said, adding that the changes would not be for tourism or commercial purposes.
Yang, a Taiwanese literature academic, is one of the commission's three full-time members.
The act, passed in December last year, stipulates the creation of a nine-member committee of the Executive Yuan entrusted with making political archives more readily accessible, including the retrieval of those kept by the Chinese Nationalist Party (KMT); removing remnants of authoritarian rule; redressing miscarriages of justice; producing a historical report on the period; and promoting transitional justice.
The Democratic Progressive Party-controlled Legislative Yuan on May 8 approved all nine commission members nominated by Premier William Lai (賴清德), while the KMT and People First Party caucuses abstained.
Comments will be moderated. Keep comments relevant to the article. Remarks containing abusive and obscene language, personal attacks of any kind or promotion will be removed and the user banned. Final decision will be at the discretion of the Taipei Times.