US senator in Taiwan to lend support
RESPONSIBILITY: Two US senators have introduced a bill aimed at developing a policy for the US to support Taiwan's participation in international organizations
By Aaron Tu, Yao Chieh-hsiu and Jake Chung / Staff Reporters, with Staff Writer, and CNA, Washington
President Tsai Ing-wen (蔡英文) yesterday evening met with US Senator Cory Gardner, who at the last minute added Taipei to his official tour of Asia to lend support to Taiwan amid China's intensifying suppression of the nation's international space.
Less than a month after the Dominican Republic cut diplomatic ties with Taiwan, Burkina Faso on Thursday announced that it was also severing ties with Taipei, bringing the number of the nation's diplomatic allies to 18.
China and Burkina Faso yesterday signed an agreement establishing diplomatic relations.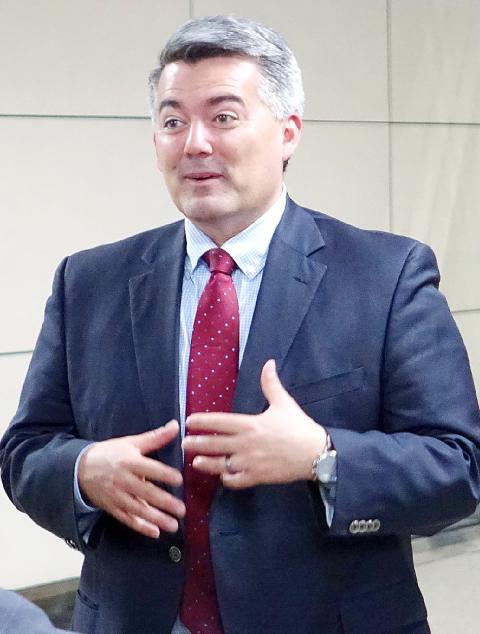 US Senator Cory Gardner, chairman of the US Senate Foreign Relations Subcommittee on East Asia, the Pacific and International Cybersecurity Policy, arrives at Taiwan Taoyuan International Airport last night.
Photo: Tony Yao, Taipei Times
Gardner, who is chairman of the US Senate Foreign Relations Subcommittee on East Asia, the Pacific and International Cybersecurity Policy, on the night before his departure from the US decided to include Taiwan in his tour of Asia, the Ministry of Foreign Affairs said.
Upon his arrival at Taiwan Taoyuan International Airport, Gardner told reporters that he is here to express support for Taiwan and to step up cooperation on trade and security, and interactions between the people of Taiwan and the US.
Gardner was greeted by Ministry of Foreign Affairs Department of North American Affairs Director-General Remus Chen (陳立國) and members of the American Institute in Taiwan.
In her meeting with Gardner, Tsai said China's recent series of political moves suggested it is changing the peaceful and stable cross-strait status quo. That being the case, Taiwan would not waver in its stance to embrace the world, she added.
During Gardner's two-day visit to Taiwan on the first leg of his trip, he is to meet with high-ranking government officials and attend a dinner hosted by Minister of Foreign Affairs Joseph Wu (吳釗燮), the ministry said.
The visit comes just one day after Gardner and Senator Edward Markey introduced a bipartisan bill aimed at developing a policy for the US to support Taiwan's participation in international organizations.
The proposed "Taiwan international participation act of 2018" instructs US representatives in international organizations to use the voice and vote of the US to support Taiwan's inclusion, along with directing the US president or their designated representative to raise Taiwan's participation, in appropriate international organizations in all bilateral engagements with China, Gardner said in a statement.
The bill is in response to unprecedented pressure imposed by China on international organizations, including the WHO, to exclude Taiwan, Gardner said.
"The United States has an obligation to do everything it can to strengthen Taiwan's international standing," he said on Friday. "This bipartisan legislation will help ensure that major international organizations do not turn a blind eye to our ally Taiwan simply because of China's bullying tactics."
Meanwhile, Markey said that Taiwan has long been an active and productive contributor to international organizations that do not require statehood.
"Taiwan's participation should continue, as we have a broader responsibility to our allies and partners to ensure coercion does not become the norm in the Indo-Pacific and beyond," he said.
The bill comes at a time when Taiwan has been excluded from the World Health Assembly, the decisionmaking body of the WHO, for the second consecutive year.
Taiwan had hoped to attend the annual meeting as an observer, as it did from 2009 to 2016, but did not receive an invitation from the WHO because of opposition from China, which has been stepping up its efforts to reduce Taiwan's participation in international events since Tsai of the Democratic Progressive Party took office in May 2016.
Additional reporting by Reuters
Comments will be moderated. Keep comments relevant to the article. Remarks containing abusive and obscene language, personal attacks of any kind or promotion will be removed and the user banned. Final decision will be at the discretion of the Taipei Times.