Fifteen allies back WHA observer status
SPEAKING OUT: Canada and New Zealand for the first time gave their backing for Taiwan's participation, while Germany, Honduras and Japan also spoke up
Fifteen of Taiwan's diplomatic allies have voiced support for its attendance at this year's World Health Assembly (WHA) as an observer, the WHO said yesterday as it opened the first meeting of the 71st WHA in Geneva, Switzerland.
Proposals for a supplementary agenda item "inviting Taiwan to participate in the WHA as an observer" were received last month and earlier this month from Belize, Tuvalu, Nauru, Eswatini, the Marshall Islands, Kiribati, El Salvador, Saint Christopher and Nevis, Nicaragua, Paraguay, the Solomon Islands, Burkina Faso, Haiti, Saint Vincent and the Grenadines and Saint Lucia, the WHO said in a statement.
The proposal has been submitted to the WHA's General Committee for review, it said.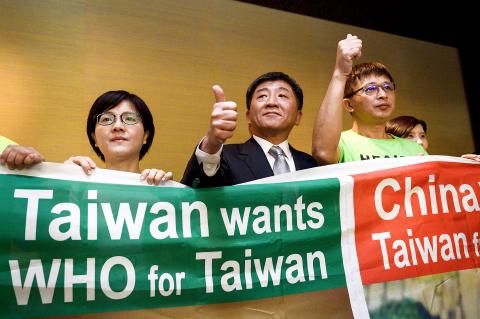 Minister of Health and Welfare Chen Shih-chung, center, yesterday poses with demonstrators after he held a news conference on the sidelines of the World Health Assembly in Geneva, Switzerland.
Photo: AFP
If the assembly decides to discuss the proposal, it would issue documents related to it, the statement said.
The proposals are listed in the form of direct quotes and do not represent the opinions of the WHO Secretariat, a note to the statement said, adding that the WHO addresses Taiwan as "Taiwan, China."
Representatives from Germany, Honduras and Japan yesterday voiced support for Taiwan to have observer status during their speeches to the assembly as well as, for the first time ever, Canada and New Zealand.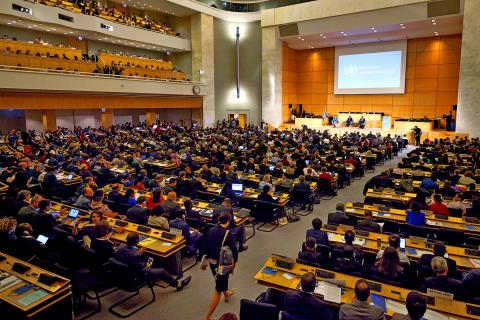 Delegates attend the World Health Assembly in Geneva, Switzerland, yesterday.
Photo: AFP
Taipei Cultural and Economic Delegation Geneva Office Director-General Bob Chen (陳龍錦) said proposals would be discussed in two-against-two debates, and that four of Taiwan's allies have agreed to speak for it.
While Eswatini and the Solomon Islands would lobby at the General Committee for Taiwan's participation, the Marshall Islands and Saint Vincent and the Grenadines would put forward a motion to debate Taiwan's participation if the committee vetoes the proposal, Chen said.
Taiwan in 1997 began to seek an invitation to the WHA's annual meetings and was finally invited as an observer in 2009, under the former Chinese Nationalist Party (KMT) administration. It received invitations through 2016.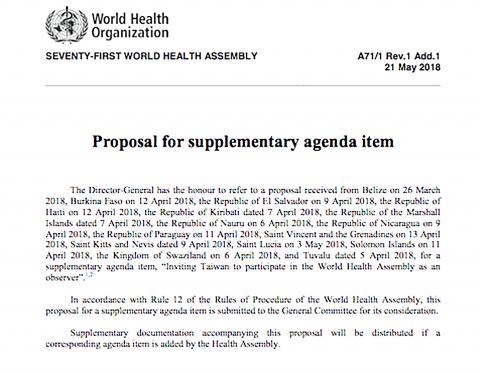 A copy of a WHO proposal for a supplementary agenda item inviting Taiwan to participate in the WHA as an observer is pictured yesterday.
Photo: CNA, screen grab from the Internet
However, Beijing blocked such invites last year and again this year to show its displeasure with the Democratic Progressive Party administration of President Tsai Ing-wen (蔡英文).
Comments will be moderated. Keep comments relevant to the article. Remarks containing abusive and obscene language, personal attacks of any kind or promotion will be removed and the user banned. Final decision will be at the discretion of the Taipei Times.