First two years laid a foundation: Tsai
LIVE-STREAMED: The president spoke for a half-hour on the online platform Watchout, discussing her cross-strait policy and other issues, and taking netizens' questions
On the second anniversary of her inauguration, President Tsai Ing-wen (蔡英文) yesterday said that while the two years had been somewhat bumpy, it was natural, since her administration has been pushing through a series of reforms to lay the foundation for a better future.
In a live-streamed half-hour interview with the online platform Watchout, Tsai said she would ensure that the reforms her administration has launched would be put into practice and said that the public would soon begin to see concrete results.
"We spent most of my first two years doing preparation … the next two years of my presidency, we will speed up the pace of these proposed reforms," Tsai said.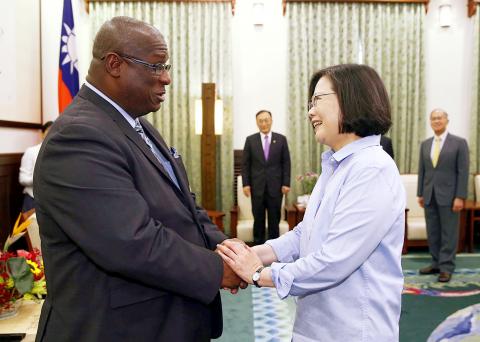 President Tsai Ing-wen, right, meets Saint Lucian Minister of Infrastructure, Ports, Energy and Labor Stephenson King at the Presidential Office Building yesterday in Taipei.
Photo: CNA
Her administration has been preparing the legal frameworks to deal with many of the fundamental problems the nation is facing.
Its reforms include providing affordable housing, especially for low-income young people; raising salaries; reducing work hours; and boosting the low birth rate.
Her cross-strait policy of maintaining the "status quo" has not changed, and the government would neither act abruptly nor be stuck in a deadlock, she said.
It would neither return to the Chinese Nationalist Party's (KMT) authoritarian era, when the two sides of the Taiwan Strait refused to interact with one another, nor would it submit to pressure, she said.
There might have been some change in cross-strait relations, but this was all the more reason to be determined to overcome difficulties, she said.
Maintaining the peaceful and stable "status quo" across the Strait is everyone's responsibility, she said.
Asked by a netizen how her administration would counter Chinese infiltration, Tsai said she would strengthen societal safety measures and pay extra attention to whether "Chinese factors" would affect societal stability.
Turning to other topics, the president said marriage equality is a human rights issue and an indicator of social progress.
After the Council of Grand Justices issued a constitutional interpretation affirming the constitutionality of same-sex marriage, the administration has reached a constitutional basis for marriage equality, so it has to amend the law to guarantee the freedom to marry according to the grand justices' interpretation, she said.
Government agencies would definitely propose a plan for review by lawmakers, she added.
The government recently gave public servants a 3 percent raise and is encouraging private-sector companies to boost salaries, and even pressuring them by threatening to name and shame listed firms that pay low wages.
The government has said that Taiwan has shaken off the 16 years of wage stagnation that began in 2000 and it is starting to see an increase in overall earnings.
However, sentiment among average wage earners has been low, because of low wages, the rising cost of living and high housing prices.
The government has said it would put 200,000 social housing units on the market over an eight-year period at concessionary rates to address housing issues.
As of Feb. 1, its social housing initiative has put almost 10,000 units on the market, the Construction and Planning Agency has said.
Figures released on Saturday showed that fewer babies were born in Taiwan last year than in any year in the past four decades, with the exceptions of 2009 and 2010. The population growth last year was also the lowest in the nation's history.
Comments will be moderated. Keep comments relevant to the article. Remarks containing abusive and obscene language, personal attacks of any kind or promotion will be removed and the user banned. Final decision will be at the discretion of the Taipei Times.