DPP keeps its distance after Ko apology
Taipei Mayor Ko Wen-je's (柯文哲) apology for a controversial remark on cross-strait relations and his support for President Tsai Ing-wen's (蔡英文) re-election bid were yesterday met with a lukewarm response from the Democratic Progressive Party (DPP).
Ko on Tuesday said on a radio talk show that he supports Tsai running for re-election in 2020 and apologized for saying that the "two sides of the Taiwan Strait are one family."
The show sparked great controversy when it was broadcast on Wednesday, with many interpreting it as Ko's attempt to seek cooperation from the DPP, which endorsed the physician-turned-politician in the 2014 race, for this year's Taipei mayoral election.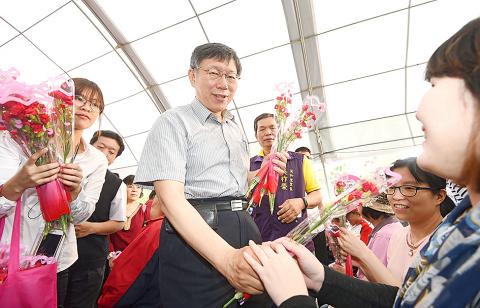 Taipei Mayor Ko Wen-je yesterday hands out carnations to mothers attending an event in Taipei promoting a new daycare policy and marking Mother's Day, which is on Sunday.
Photo: Fang Pin-chao, Taipei Times
Ko's comments should not be overinterpreted, as there are more important things for the DPP to consider when determining its election strategy for the Taipei mayoral race, Tsai told reporters during a visit to Hsinchu Biomedical Science Park yesterday.
The DPP's top priorities for Taipei are the expectations of its residents and their vision for the city, Tsai said, adding that the party would also consider how to best assist the central government to implement policies that require collaboration with the city government.
"We must not forget what we have set out to achieve in the first place," she said.
Asked about Ko's remarks on the talk show, DPP Electoral Strategy Committee coconvener Chen Ming-wen (陳明文) said: "All I can say is that I know what he was trying to say."
Chen said he believed Ko was trying to help DPP supporters understand why he had made the "one family" comment.
"He is apparently making a friendly gesture to the party," he added.
Chen said he was not surprised that Ko supports Tsai running for re-election, because Ko has expressed that position before.
The committee has standard procedures and would not allow outside factors to affect its election strategies, he said.
It would gauge public opinion and try to better understand what DPP supporters think, he added.
Ko's apology indicated that he "finally realized he had hurt the feelings of many DPP supporters," DPP Taipei chapter director Huang Cheng-kuo (黃承國) said.
Ko explained the context in which he made the comment and supporters will make their own decisions on what to make of it, he said.
Meanwhile, former Chinese Nationalist Party (KMT) legislator Ting Shou-chung (丁守中), who was nominated by the KMT as its Taipei mayoral candidate on Wednesday, criticized Ko for flip-flopping and called him a "jellyfish" that is quick to bend to pressure.
Ko told reporters on the sidelines of a Mother's Day event in Taipei yesterday that it is difficult to maintain balance and keep going in a society as politically polarized as Taiwan's.
One group criticized him for making the "one family" comment, while the other criticized him for apologizing, he said.
He apologized in the hope of appeasing those who were displeased by the comment, Ko said.
"They were upset. What can I do?" he added.
Ko said he was convinced by Taipei Deputy Mayor Chen Chin-jun (陳景峻) and radio talk show host Chen Yue-hsin (陳雨鑫) to do the interview and clear up possible misunderstandings.
He has always proposed maintaining economic ties and reducing tensions with China, he said.
Additional reporting by Ann Maxon
Comments will be moderated. Keep comments relevant to the article. Remarks containing abusive and obscene language, personal attacks of any kind or promotion will be removed and the user banned. Final decision will be at the discretion of the Taipei Times.