Ting wins the KMT's Taipei primary
'REAL CHALLENGE BEGINS': The race for Taipei mayor would be uneven, as Ko Wen-je has the city government's resources at his disposal, Ting Shou-chung said
Former Chinese Nationalist Party (KMT) legislator Ting Shou-chung (丁守中) is poised to represent the KMT in the Taipei mayoral race after defeating three other hopefuls by a wide margin, according to the party's primary poll results released yesterday.
Following four failed attempts to win the KMT's Taipei mayoral candidacy, Ting garnered the highest support rating with 47.6 percent in the averaged results of three telephone-based opinion polls, which were conducted by the party between Sunday and Tuesday to determine its candidate for Taipei mayor in the Nov. 24 elections.
Ting was followed by former KMT legislator Sun Ta-chien (孫大千) with 18.2 percent, former Mainland Affairs Council deputy minister Chang Hsien-yao (張顯耀) with 17.2 percent and Taipei City Councilor Chung Hsiao-ping (鍾小平) with 16.9 percent.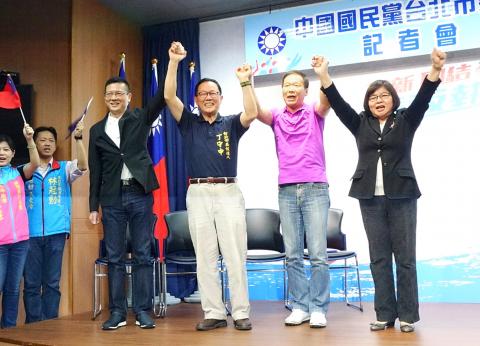 Former Chinese Nationalist Party (KMT) legislator Ting Shou-chung, second left, yesterday holds hands with his competitors for the nomination as the party's Taipei mayoral candidate after he was announced the winner of the party's nomination primary for the November election.
Photo: Fang Ping-chao, Taipei Times
"The real challenge begins now," said Ting, who served seven legislative terms since 1990, after the results were announced at KMT headquarters in Taipei.
Ting said his next step would be to unify the pan-blue camp to consolidate its support base, while putting forward well-devised policies to appeal to swing voters and those who are leaning toward the pan-green camp.
Despite Taipei Mayor Ko Wen-je's (柯文哲) popularity in the media and online, Ting said some Taipei residents he has spoken to disapprove of Ko's leadership style, which he said is all about "talking nonsense and proposing pie-in-the-sky policies."
"Nevertheless, the mayoral race is going to be a tough and uneven fight, because Ko has the Taipei City Government's resources, which puts him at an advantage," Ting said, adding that his three opponents have agreed to join his campaign team.
Ting dismissed concerns that he could suffer the same fate as former KMT chairwoman Hung Hsiu-chu (洪秀柱), as there have been calls for the KMT to instead nominate Kuan Chung-ming (管中閔), whose appointment as National Taiwan University president was rejected by the Ministry of Education on Friday last week due to controversies surrounding him and his election.
"I will show the public the high level of support I have at the grassroots level in Taipei," Ting said.
Despite winning the KMT's presidential primary in July 2015, Hung was replaced by then-KMT chairman Eric Chu (朱立倫) in October as the party's presidential candidate for the 2016 election due to her contentious cross-strait policies and low approval rating.
Ting's nomination is to be forwarded to the party's Central Standing Committee for final approval on Wednesday next week, KMT Culture and Communications Committee deputy director-general Hung Meng-kai (洪孟楷) said.
Poll results suggest the race between Ting and Ko would be close, as the gap between the two's support ratings are within 3 percentage points, KMT Taipei Chapter director Huang Lu Ching-ju (黃呂錦茹) said.
Additional reporting by Hsiao Ting-fang
Comments will be moderated. Keep comments relevant to the article. Remarks containing abusive and obscene language, personal attacks of any kind or promotion will be removed and the user banned. Final decision will be at the discretion of the Taipei Times.