Preventing takeover new priority
ASYMMETRIC WARFARE: A new doctrine would see mobility and distribution of capabilities emphasized, while the next Han Kuang exercise will utilize civilian assets
The next installment of the annual Han Kuang military exercise is to reflect the military's doctrinal shift from annihilation of the enemy to prevention of victory for the aggressor, a military official said yesterday.
The 34th Han Kuang exercise is to consist of a computer-assisted military simulation from Monday to Friday next week, as well as live-fire drills from July 4 to July 8, the general staff's Chief of Joint Operations Major General Yeh Kuo-hui (葉國煇) told a news conference in Taipei.
The computer-assisted drill is designed to examine the soundness of the military's Ku An operation plan and its success is not contingent on achieving victory, he said, adding that this would be a departure from past practice.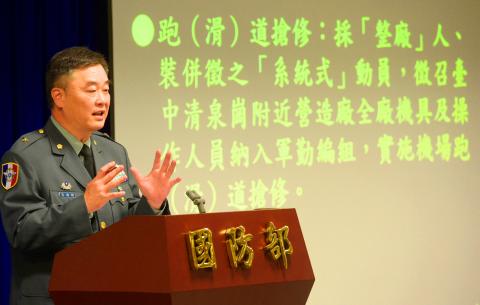 Major General Yeh Kuo-hui, chief of Joint Operations of the Army's General Staff, holds a news conference in Taipei yesterday to outline plans for this year's Han Kuang military exercises.
Photo: Chang Chia-ming, Taipei Times
The live-fire portion is to emphasize realism, mobilization of civilian assets, augmentation of the military's reserve capabilities, combat under degraded command and control capabilities, and integration of the annual Wan An air raid drill, Yeh said.
For some portions of live-fire exercise, civilian assets — including Chunghwa Telecom Co (CHT, 中華電信), industries near the Ching Chuan Kang Air Base in Taichung and civilian drone operators — would be incorporated, he said.
Civilian organizations are to assist in tasks such as maintaining communication channels with cell sites, repairing damaged runways, battlefield imaging and information management, he said.
The growing gap in military resources between Taiwan and China has made the military's traditional doctrine of emphasizing the destruction of enemy forces "not suited for the times and unachievable," a Ministry of National Defense official said on condition of anonymity.
The live-fire drills are to involve mock air, sea and land battles during the day and night, with military units assuming attacking and defending roles, the official said.
The mock battles are intended to portray the asymmetric warfare conditions that the military believes to most realistically simulate a war with China, so it is reorienting its strategy toward preventing China's People's Liberation Army from conquering Taiwan, he said.
The doctrine — which had previously been elaborated by military officers — is now the guiding principle for building the armed forces, he said.
The focus on asymmetric warfare is to result in an increased emphasis on mobility, and distributing capabilities geographically and systematically to mitigate vulnerability from targeted strikes, he said.
In arms procurement, it signals a preference for weapons that prioritize efficiency, survivability, precision-strike capabilities and quality over quantity, he said.
The doctrine might favor the procurement of fast and stealthy systems that are compatible with swarm tactics, including rapid mine deployment-capable minelayers, submarines, guided missile attack boats, mobile air-defense systems, mobile anti-armor platforms, precision guided munition-firing tube artillery and self-propelled multiple launch rocket systems, he said.
The exercise's arrangement shows that the military intends to distribute its systems and build up reserves by commandeering civilian drone resources, he said.
Comments will be moderated. Keep comments relevant to the article. Remarks containing abusive and obscene language, personal attacks of any kind or promotion will be removed and the user banned. Final decision will be at the discretion of the Taipei Times.