Commission's referendum approval draws groups' ire
DARK DECISIONS: A referendum on human rights would insult society, undercut Taiwanese values and is a slap in the face to the president, a same-sex marriage advocate said
The Central Election Commission's decision on Tuesday to approve three national referendum proposals against same-sex marriage came under fire yesterday from social activists and members of the public.
The commission said that two referendum proposals from Alliance for the Happiness of the Next Generation Alliance president Tseng Hsien-ying (曾獻瑩) and one from its convener, Yu Hsin-yi (游信義), were drafted in accordance with the law.
One of Tseng's proposals asks people whether they think same-sex marriage is a right that should be granted by means other than amending the Civil Code — which governs marriage — while the other asks whether education about homosexuality at elementary and high schools mandated by the Gender Equity Education Act (性別平等教育法) should be abolished.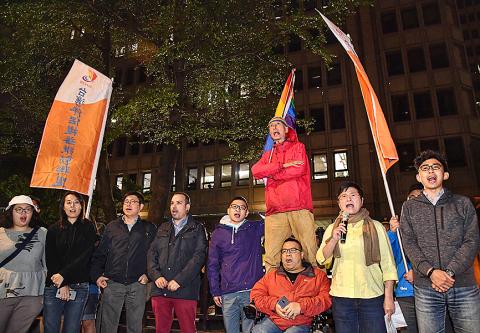 Gay rights activist Chi Chia-wei, back row, standing, and other social activists on Tuesday stage a protest in front of the Central Election Commission in Taipei against the commission's approval of three referendums proposed by groups opposed to same-sex marriage, saying that human rights cannot be decided by a vote.
Photo: CNA
Yu asked people whether they support keeping the definition of marriage in the Civil Code as a union between a man and a woman.
"The Central Election Commission has made its darkest decision yet," author Chen Fang-ming (陳芳明) said on Facebook.
"Having a public referendum on human rights is an insult to Taiwan's democratic society, undercuts the Taiwanese values that we have long been so proud of and it is a slap in the face to President Tsai Ing-wen (蔡英文), who has publicly said: 'My name is Tsai Ing-wen and I support marriage equality,'" he said.
Exiled Chinese democracy activist Wang Dan (王丹) also panned the commission's decision on Facebook, saying: "It showed they [commission officials] are utterly ignorant of the Constitution's protection of human rights."
"Marriage is a constitutionally guaranteed fundamental right, like the freedom of speech; such rights are not determined by public referendums, but by the supreme court," he said. "China is regressing to the Cultural Revolution. Taiwan should not follow that bad example in trying to reverse civilization."
On Tuesday evening, Taiwan Alliance to Promote Civil Partnership Rights (TAPCPR), a group that supports same-sex marriage, staged a demonstration outside the commission building.
Veteran gay rights advocate Chi Chia-wei (祁家威) — who filed the case that led to Constitutional Interpretation No. 748 in May last year, which ruled in favor of same-sex marriage as constitutional right — participated in the protest.
The commission's ruling is unconstitutional, TAPCPR said, adding that its attorneys are considering suing the commission at an administrative court.
"Initially, Yu's proposal to limit the definition of marriage and Tseng's proposal to avoid protecting same-sex couples' rights via the Civil Code raised concerns that they contradict Judicial Yuan Interpretation No. 748," the commission said in a statement yesterday.
The constitutional interpretation states: "The freedom of marriage for two persons of the same sex shall be protected by the freedom of marriage under Article 22 of the Constitution."
The commission also passed a referendum proposal suggested by former president Ma Ying-jeou (馬英九) about legally penalizing top officials who pressure the judiciary.
His proposed referendum would ask whether presidents, lawmakers, Control Yuan members or other high-ranking officials who directly or indirectly pressure, lobby or improperly influence members of the judiciary to obtain a favorable court ruling for themselves or others should face legal penalties.
The four proposals need to obtain 280,000 signatures each to pass the reconfirmation stage of the referendum process, after which a referedum can be held.
Comments will be moderated. Keep comments relevant to the article. Remarks containing abusive and obscene language, personal attacks of any kind or promotion will be removed and the user banned. Final decision will be at the discretion of the Taipei Times.