Amendments to set lower limit on military pensions
As part of ongoing pension reform efforts, the Executive Yuan yesterday finalized draft amendments to the Act of Military Service for Officers and Noncommissioned Officers of the Armed Forces (陸海空軍軍官士官服役條例) that set the monthly minimum pension for retired military personnel at NT$38,990 and the timeframe for abolishing an 18 percent preferential interest rate on their savings accounts at 10 years after the amendments take effect.
The amendments stipulate that military pensions are to be calculated based on a "55+2" formula: 55 percent of double a service member's base salary over the final five years of their service, which is to increase by 2 percent each year until reaching a maximum of 90 percent for officers or 95 percent for noncommissioned officers.
Retired military personnel who still benefit from the 18 percent preferential interest rate would see their interest earnings reduced if the sum of their pension and interest exceeds the total derived by the "55+2" rule, the draft amendments say.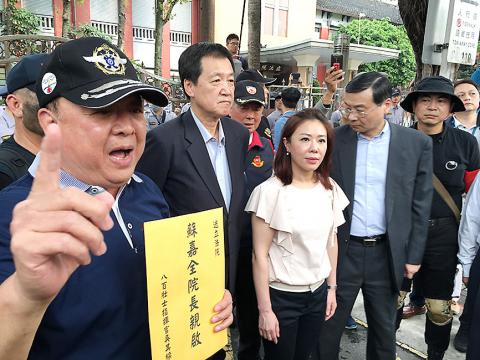 Representatives of veterans group 800 Heroes arrive at the Legislative Yuan in Taipei to deliver a petition yesterday.
Photo: Cheng Hung-ta, Taipei Times
The cut is to be implemented over a maximum of 10 years so that the sum of pension and interest matches the total to which retired military personnel are eligible to receive under the amended pension system.
The reform would not affect retired military personnel whose pensions are less than NT$38,990 or whose income replacement ratio is less than 55 percent, Minister Without Portfolio Lin Wan-yi (林萬億) told a news conference at the Executive Yuan in Taipei.
The new rules are expected to go into effect on July 1, along with pension cuts for public-school teachers and civil servants, after they pass a legislative review, he said.
The military pension reform would affect 56,312 — or about 48 percent — of retired military personnel, including 5,050 former noncommissioned officers, Veterans Affairs Council Deputy Minister Lu Chia-kai (呂嘉凱) said.
Separately yesterday, veterans group 800 Heroes commander Wu Chi-liang (吳其樑) and spokesman Wu Sz-huai (吳斯懷), who are both retired lieutenant generals, delivered another petition to the Legislative Yuan in Taipei, which was received by Legislative Yuan Deputy Secretary-General Kao Ming-chiu (高明秋).
The petition called for a constitutional interpretation of the proposed military pension reform to determine whether its scope should include retired military personnel who already receive pensions.
If the Council of Grand Justices finds the proposed reform constitutional, the group would end its opposition, Wu Sz-huai said, adding that otherwise, the proposed amendment should exclude existing pensioners.
The Cabinet's proposal is not based on legitimate expectations, making it beneficial to active-service personnel, but harmful to former military personnel, Chinese Nationalist Party (KMT) caucus secretary-general Lee Yen-hsiu (李彥秀) said.
The Cabinet did not ensure sufficient communication before unveiling the draft, for which it was required to hold public hearings to better gauge the opinions of active and former military personnel before a review, she said.
Comments will be moderated. Keep comments relevant to the article. Remarks containing abusive and obscene language, personal attacks of any kind or promotion will be removed and the user banned. Final decision will be at the discretion of the Taipei Times.