Chinese hackers getting sophisticated
UNDER ATTACK: The government's digital domains suffered 10 level 3 incidents last year, which might have compromised personal data stored on the affected systems
The threat from state-sponsored cyberattacks on the nation's digital infrastructure, including those directed by Beijing-affiliated groups, has increased in sophistication and severity over the past year, the Department of Cyber Security said yesterday.
Last year, Chinese hackers mounted 288 successful cyberattacks on the government's systems, or 80 percent of the total of 360 successful attacks that the department discovered, department Director Chien Hung-wei (簡宏偉) said.
Each month, the government's systems are subjected to anywhere between 20 million and 40 million attacks, in addition to billions of probing actions made by hackers looking for weaknesses, he said.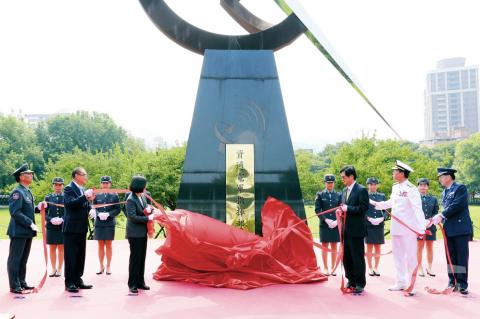 President Tsai Ing-wen, center left, attends the inauguration of the information communication and electronic warfare office under the Ministry of National Defense's General Staff Headquarters in Taipei on Sept. 11 last year.
Photo: courtesy of Military News Agency
These actions are initiated by hackers from around the world, though groups based in China are believed to be involved in many of them, Chien said.
The overwhelming majority of cyberattacks are level 1 or level 2 events that result in unauthorized changes to Web pages or other minor damage, he said.
However, the government's digital domains suffered 10 level 3 incidents, which might have compromised personal data stored on the affected systems, he said.
While there were no successful level 4 attacks — the highest threat level — against the nation's infrastructure, Chinese hackers had improved the success rate of their attacks, he said.
"The increasing precision of Chinese attacks is a matter of concern for this department," Chien said.
Hackers route their attacks through servers in the US, Russia, EU member states and other nations, which makes pinpointing an attack's point of origin difficult, he said.
However, the department is able to identify specific patterns, traits and other modes of operation that are associated with China-sponsored hackers, including the presence of certain characters or styles of coding used in hacking tools, he said.
Hackers from China, North Korea and Russia have been highly active, and Taiwan often serves as a testing ground for new hack tools or techniques before their deployment against targets in other nations, he said.
As a result, foreign governments have expressed an interest in gaining access to the information the department has collected on cyberattacks directed against Taiwan, he said.
The department is overseeing the government's efforts to develop a system of defense to shield its core computer systems, infrastructure and sensitive data from cyberattacks, Chien said.
The defensive system would involve building up defenses at each of the government's Web portals and each of the office domains connected to them, he said.
Furthermore, government offices need to communicate with each other and share information about cyberattacks to coordinate their security efforts and discern emerging threats, he said.
An academic, on the day of being nominated a Cabinet official, had received an e-mail with an embedded virus that was designed to penetrate the government's internal networks, said an official, who asked not to be named.
Comments will be moderated. Keep comments relevant to the article. Remarks containing abusive and obscene language, personal attacks of any kind or promotion will be removed and the user banned. Final decision will be at the discretion of the Taipei Times.