Academic quits over falsified research
DEVIATION: Chen Ching-shih said his laboratory staff had 'beautified' data to make their research look better, while the Ohio State University has retracted his papers
Academia Sinica yesterday approved the resignation of distinguished research fellow Chen Ching-shih (陳慶士) after news of research misconduct in eight of his published papers was made public by the Ohio State University, where he previously served as a cancer researcher.
Academia Sinica said in a statement that it is sorry to hear about the incident, but added that Chen's misconduct occurred before he became head of Academia Sinica's Institute of Biological Chemistry in August 2014.
The institution's Research Ethics Committee would still look into work he performed while serving at the academy, the statement added.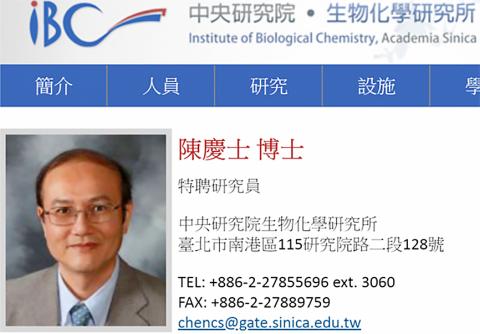 A screen grab from Academia Sinica's Institute of Biological Chemistry's Web site shows Chen Ching-shih profile yesterday morning. The profile has since been removed from the Web site.
Chen's resignation from the Academia Sinica comes after academic journal Science and the university issued separate reports on Friday regarding the findings of research misconduct that led to his resignation as a cancer researcher from the university last year.
The reports said the investigation found Chen had "intentionally committed research misconduct" in 14 instances in eight journal articles, and was guilty of "deviating from the accepted practices of image handling and figure generation and intentionally falsifying data."
Chen admitted to the charges and resigned in September last year, the university said.
The university said it has requested an "immediate retraction" of the papers, published between 2006 and 2014, that contain the fabricated data.
However, the implications of the misconduct go beyond unreliable academic papers, as Chen's work had raised millions of US dollars in funding and led to multiple patents and the establishment of two compounds in clinical trials.
The university said it immediately shut down a clinical trial of one of Chen's anti-cancer agents that Arno Therapeutics Inc had been conducting after obtaining exclusive rights to test the agents.
A spokesperson for the company said that issues with Chen's papers had "zero impact" on its drug development efforts, Science said.
The university said it "hired an external consultant who validated that Chen's research misconduct did not affect the Arno licensed compounds developed in his lab."
"Patient safety was never compromised," the university's statement said.
The university said it has forwarded the investigation to federal authorities, meaning Chen could continue to be investigated for his actions.
Academia Sinica first became aware of the matter about a year ago, but it had limited access to Chen's questionable articles because the university did not reveal its investigation on its Web site until Friday, Academia Sinica Central Academic Advisory Committee executive secretary Henry Sun (孫以瀚) said yesterday.
This is the worst punishment a Taiwanese academic has ever received from a foreign institution, dealing a heavy blow to the nation's image in international academia, Sun said.
Sun quoted Chen as saying that his laboratory staff "beautified" data to make their research look better, and that he was responsible for lax supervision.
Yesterday morning, Chen's profile was accessible on the Institute of Biological Chemistry's Web site, but it was later taken down after Chen tendered his verbal resignation to Academia Sinica president James Liao (廖俊智).
Meanwhile, China Medical University, where Chen in February temporarily served as the director of its Institute of New Drug Development, yesterday said it is unclear about the matter and is collecting information about the case.
Before Chen returned to Taiwan to serve as director of the Institute of Biological Chemistry in August 2014 — a position he held until August last year — he had taught at the Ohio State University's College of Pharmacy, the University of Rhode Island and the University of Kentucky.
Specializing in medicinal chemistry, cancer studies, biological chemistry and translational medicine, Chen has received research awards from the US Prostate Cancer Foundation and the Hearst Foundation, and is a fellow at the American Association for the Advancement of Science.
In April last year, he and National Cheng Kung University researchers found a relation between vitamin E and cancer prevention, and created an anti-tumor agent that is 20 times more efficient than previous ones, which was then considered a potential opportunity to develop a new anti-cancer drug.
Comments will be moderated. Keep comments relevant to the article. Remarks containing abusive and obscene language, personal attacks of any kind or promotion will be removed and the user banned. Final decision will be at the discretion of the Taipei Times.