Seven Palestinians die in border clashes
At least seven Palestinians have been killed and hundreds wounded by Israeli forces in Gaza, Palestinian medics said, as protesters began a planned six-week demonstration demanding the right of return for refugees.
The Israeli military said 17,000 Palestinians were "rioting" in six locations in the Gaza strip yesterday, rolling burning tires at the security fence and its troops, which it said were responding with riot-dispersal means and firing toward the main instigators.
Israeli forces enforce a no-go zone for Palestinians on land in Gaza close to the fence and regularly fire on frequent protests along the frontier when young Palestinian men hurl stones and firebombs, but organizers said the "Great March of Return" demonstration was intended to be peaceful, and would comprise of families of men, women and children camping near the heavily fortified security fence.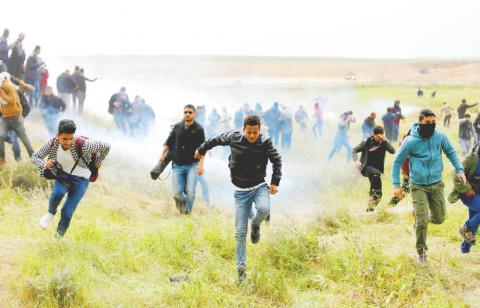 Palestinian protesters flee from tear gas during clashes near the border with Israel east of Gaza City during a demonstration commemorating Land Day.
Photo: AFP
Cultural events, including traditional dabke dancing, had been planned.
While protest camps within Gaza were set up a few hundred meters back from the barrier, large crowds yesterday marched toward the fence and some people started throwing rocks.
Israel dismissed the entire demonstration as a Hamas ploy and its military prepared by deploying reinforcements around Gaza, including more than 100 special forces sharpshooters and paramilitary border police units.
"We are identifying attempts to carry out terror attacks under the camouflage of riots," said Major General Eyal Zamir, commander of the Israeli military's Southern Command, which includes the border.
Ahead of the protest, Israeli Defense Force Chief of Staff Gadi Eisenkot told Hebrew-language media: "If there will be a danger to lives, we will authorize live fire. The orders are to use a lot of force."
The Palestinian Ministry of Health said at least 500 Palestinians had been hurt by live fire, rubber-coated steel pellets or teargas fired by Israeli forces at several locations along the fence.
The protests coincided with the start of the Jewish Passover and the Christian celebrations of Good Friday, when Israeli security forces are customarily on a state of high alert.
Hours before protests even started yesterday, the first fatality occurred.
A Palestinian farmer was killed and a second Palestinian was wounded by an Israeli tank shell, the ministry said.
Witnesses said the man was working on his land near the frontier, but an Israeli army spokesman said the two suspects were "operating suspiciously."
Yesterday marked Land Day, a commemoration of the killing of six unarmed Arab protesters in Israel in 1976, who were demonstrating land confiscations in northern Israel.
Comments will be moderated. Keep comments relevant to the article. Remarks containing abusive and obscene language, personal attacks of any kind or promotion will be removed and the user banned. Final decision will be at the discretion of the Taipei Times.