Government assessing preclearance system
'UNINTENTIONAL OUTCOME': A conditional agreement on the US program was reportedly reached in talks with China Airlines on opening a flight route to California
The government is assessing the possibility of establishing a US border preclearance system at Taiwan Taoyuan International Airport to expedite travel by Taiwanese to the US, the Ministry of Foreign Affairs said yesterday.
Government agencies are already examining the issue and discussing how such a system could be put in place at the airport, ministry spokesman Andrew Lee (李憲章) said.
The discussions include the details of setting up a preclearance system, the application process, and the management and benefits of such a system, he said.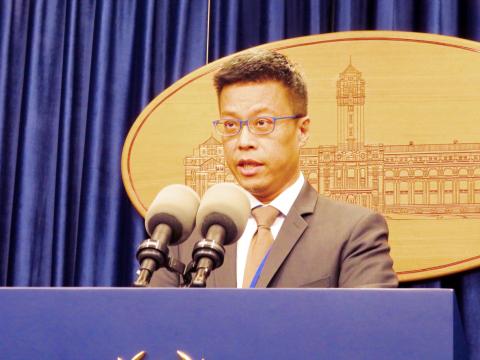 Presidential Office spokesman Alex Huang speaks at a news conference at the Presidential Office Building in Taipei yesterday.
Photo: Lee Hsin-fang, Taipei Times
The government would closely follow developments in the US, Lee said, adding that US Customs and Border Protection has not yet opened up further applications for nations interested in establishing a preclearance system.
His comments followed a front-page report yesterday in the Chinese-language Liberty Times (the sister newspaper of the Taipei Times), which said that the US had conditionally agreed to the establishment of a border preclearance system in Taiwan.
The tentative agreement was reached during talks with China Airlines (中華航空), the nation's largest carrier, about its new service between Taoyuan and Ontario International Airport near Los Angeles, California, which is to begin tomorrow, the Liberty Times said.
The newspaper quoted China Airlines chairman Ho Nuan-hsuan (何煖軒) as saying that the development was an "unintentional, positive outcome" stemming from the carrier's negotiations with the US about opening the flight route.
Asked for comment, American Institute in Taiwan spokeswoman Sonia Urbom said that the US welcomes Taiwan's interest in the border preclearance program, which is overseen by US Customs and Border Protection.
Taiwan is a member of the US' Visa Waiver and Global Entry programs, which allow more convenient and expedited entry into the US.
Presidential Office spokesman Alex Huang (黃重諺) said Taiwan's inclusion into the Global Entry program and any follow-up measures could make it more convenient for Taiwanese traveling to the US and bring citizens of the two nations closer together.
Washington and Taipei have been working closely on follow-up measures, Huang said, without disclosing any details.
The US has 15 border preclearance operations in six countries and territories — Ireland, Aruba, the Bahamas, Bermuda, the United Arab Emirates and Canada.
Additional reporting by Stacy Hsu
Comments will be moderated. Keep comments relevant to the article. Remarks containing abusive and obscene language, personal attacks of any kind or promotion will be removed and the user banned. Final decision will be at the discretion of the Taipei Times.