State Department official visits
AMCHAM MEETING: The AIT denied there was a link between the visit by US Deputy Assistant Secretary of State Alex Wong and the enactment of the Taiwan Travel Act
A US Department of State official arrived in Taipei last night for a three-day visit, the first to arrive following the enactment of the US' Taiwan Travel Act on Friday last week.
Alex Wong (黃之瀚), deputy assistant secretary at the Bureau of East Asian and Pacific Affairs, is scheduled to deliver remarks at the American Chamber of Commerce (AmCham) in Taipei's annual Hsieh Nien Fan (謝年飯) banquet tonight, the American Institute in Taiwan (AIT) said in a news release yesterday.
President Tsai Ing-wen (蔡英文) will also attend the AmCham banquet and deliver a speech.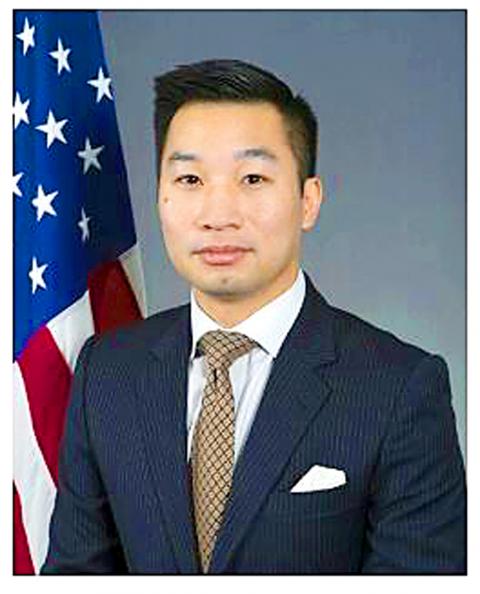 US Deputy Assistant Secretary of State for East Asian and Pacific Affairs Alex Wong is pictured in an undated photograph taken from the US Department of State's Web site.
Photo: screen grab from the US Department of State Web site
Wong is also scheduled to meet with Taiwanese official to discuss various issues connected to Taiwan-US relations, the AIT statement said.
AIT spokeswoman Sonia Urbom dismissed the idea of a link between Wong's visit and the enactment of the Taiwan Travel Act — which encourages visits by high-level US and Taiwanese officials — saying the trip had been planned for some time.
Wong, a political appointee, took office on Dec. 11 last year. He previously served as foreign policy adviser and general counsel to US Senator Tom Cotton, a Republican.
He was foreign and legal policy director for former Massachusetts governor Mitt Romney's 2012 presidential campaign, and worked as an adviser to the State Department's Iraq Rule of Law office from 2007 to 2009.
Sources said Wong is in charge of US President Donald Trump's Indo-Pacific initiatives.
The Ministry of Foreign Affairs issued a statement welcoming Wong, and said his visit would allow US government agencies to gain a better understanding of Taiwan's political and economic development, as well as its defense and cross-strait policies.
"Wong's visit not only underscores the friendship between Taipei and Washington, but is also conducive to deepening the two sides' partnership," the ministry said.
The ministry said they would also exchange opinions with Wong on the future development of Taiwan-US ties and the two nations' cooperation in the Indo-Pacific region.
Comments will be moderated. Keep comments relevant to the article. Remarks containing abusive and obscene language, personal attacks of any kind or promotion will be removed and the user banned. Final decision will be at the discretion of the Taipei Times.