New policies to counter China incentives
UNITY: Premier William Lai said that as long as Taiwanese demonstrate solidarity and support the economy, the nation will attract talent and increase its global presence
The Executive Yuan yesterday proposed eight policies, dubbed the "Strengthen Taiwan Policies," to counter the effects of 31 incentives for Taiwanese unveiled by China's Taiwan Affairs Office.
The eight policies aim to increase benefits for researchers; lend more momentum to innovative industries; boost employee rewards and benefits; improve the work environment of medical professionals; enhance protection against corporate espionage; ramp up industrial innovation and transformation; boost the momentum of Taiwanese stocks; and deepen investment in the development of the film industry, Vice Premier Shih Jun-ji (施俊吉) told a news conference at the Executive Yuan.
The policies are to be geared toward four main goals: encouraging quality education and corporate jobs while intensifying efforts to keep talented individuals, as well as recruiting from abroad; maintaining Taiwan's advantage in the global supply chain; promoting the expansion of the capital market; and strengthening the cultural and film industries, he said.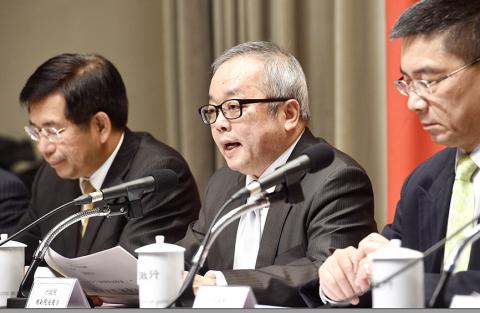 Vice Premier Shih Jun-ji, center, speaks during a news conference at the Executive Yuan in Taipei yesterday.
Photo: Peter Lo, Taipei Times.
Taiwan will become a top nation that will be attractive to talented individuals worldwide, will have a healthy economy and become strong, all based on liberty, democracy and the rule of law, he added.
China's policies are aimed at siphoning off Taiwan's capital and locally educated talent, which shows an evident political motive, Shih said, adding that the government must handle this issue practically and seriously.
"With a strong Taiwan, we will fear no challenge," Shih said.
At least 15 items of the eight policies are to be implemented by the Cabinet and its various agencies this year.
To improve local stocks' global visibility, the Cabinet said it would increase reviews for initial public offerings and cut down the review time from eight weeks to six.
Overseas subsidiaries of listed local companies would be encouraged to base themselves and list in Taiwan, the Cabinet said, adding that it would also promote the inclusion of 30 companies in an MSCI index to attract more international investment.
Measures to prevent corporate secrets from being leaked to China would include amendments to the Trade Secrets Act (營業秘密法) to establish a "retention of corporate secrets" system and punishments for related criminal activity for breaking such laws, it added.
To accelerate industrial innovation and transformation, the Cabinet said it would subsidize corporations' purchases of "smart" machinery and software that would help them maintain a competitive edge.
It added that it would provide assistance to facilitate strategic alliances between Taiwanese industries and international corporations to further bolster the nation's edge in the global supply chain.
Separately yesterday, Premier William Lai (賴清德) said the Cabinet would refer to China's new policies — which Beijing has termed "incentives for Taiwan" — as simply "measures" to avoid playing along with China's rhetoric.
As long as Taiwanese can demonstrate solidarity and bolster the nation's economy on the foundation they have built, the nation will attract more talent and increase its global presence, Lai said.
Additional reporting by Sean Lin and Chen Mei-ying
Comments will be moderated. Keep comments relevant to the article. Remarks containing abusive and obscene language, personal attacks of any kind or promotion will be removed and the user banned. Final decision will be at the discretion of the Taipei Times.