Autopsy shows Hong Kong woman likely strangled, police say
As the investigation into the murder of a young Hong Kong woman who came to Taiwan for a vacation last month continues, police officers yesterday said her autopsy results indicated she might have been strangled.
The body of 20-year-old Poon Hiu-wing (潘曉穎) was recovered yesterday morning from an overgrown field just outside Zhuwei (竹圍) MRT station in New Taipei City's Tamsui District (淡水).
Hong Kong police on Tuesday arrested Poon's boyfriend, 20-year-old Hong Kong college student Chan Tung-kai (陳同佳), media reports said.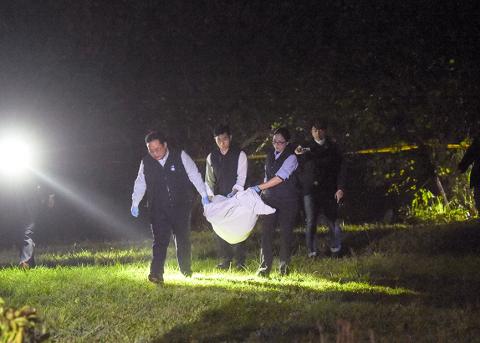 Workers from the Second Funeral Parlor retrieve the body of Poon Hiu-wing from a site near the Zhuwei MRT Station in New Taipei City yesterday.
Photo: Huang Yao-cheng, Taipei Times
Poon and Chan arrived in Taiwan on Feb. 8 for a holiday and to spend Valentine's Day together, Taipei police said.
The couple visited several places and on Feb. 13 checked into the Purple Garden Hotel in Taipei.
Chan checked out of the hotel alone on Feb. 17 and returned to Hong Kong that night, they said.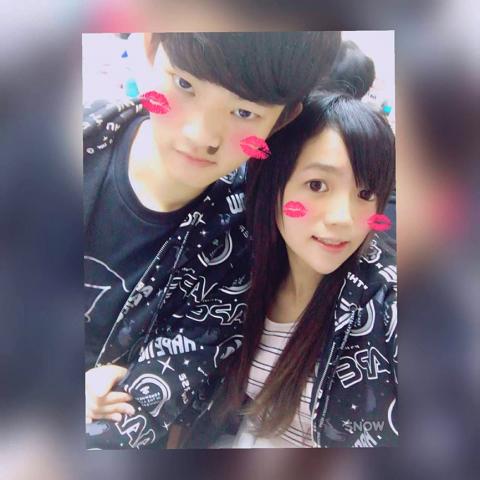 Poon Hiu-wing and her boyfriend, Chan Tung-kai, are pictured in an undated photograph posted on Poon's Facebook page.
Photo: Screen grab from Facebook
Investigators believe the pair got into an argument, and suspect that Chan, in a fit of anger, strangled Poon, stuffed her body inside a pink suitcase and disposed of it outside Zhuwei MRT Station.
Surveillance cameras show Chan towing a pink suitcase on the morning of Feb. 17 and taking the MRT to the station, where police believe he disposed of her body and abandoned the luggage at another location.
Video footage shows Chan returning to the hotel in the evening without the suitcase, and then checking out.
Poon's parents filed a missing person's report with Hong Kong authorities.
Hong Kong police found that Chan had used Poon's bank card to withdraw money on two occasions, on Feb. 17 in Taiwan and on Feb. 20 in Hong Kong.
Hong Kong police have begun negotiations with Taiwanese authorities to transfer Chan to Taipei for investigation.
As Hong Kong and Taiwan do not have an extradition treaty, Hong Kong media have quoted officials as saying that the negotiations might take some time, because a special provisional bill might be needed for an extradition request, which has to be approved by the territory's Legislative Council.
Police and investigators yesterday went to the hotel where the couple had stayed to search for possible evidence.
Chan has reportedly confessed to Hong Kong police that he killed Poon and has told them where he disposed of her body.
Local media reports said that Poon's father, who came to Taiwan to ask the police to look for his daughter, was distraught as he was accompanied by officials to a Taipei morgue to see her body and wait for autopsy results.
Comments will be moderated. Keep comments relevant to the article. Remarks containing abusive and obscene language, personal attacks of any kind or promotion will be removed and the user banned. Final decision will be at the discretion of the Taipei Times.