Brussels' iconic statue wears Hakka costume
Belgium has honored its friendship with Taiwan by dressing Manneken Pis — an iconic bronze statue in Belgium of a boy urinating — in traditional Hakka costume.
The statue, a symbol of the city's humor, is frequently garbed in costume as a gesture of friendship to its many foreign tourists.
At noon on Wednesday at Brussels Town Hall, Representative to the EU and Belgium Harry Tseng (曾厚仁) gifted the costume to The Order of Friends of Manneken Pis, the statue's managing committee.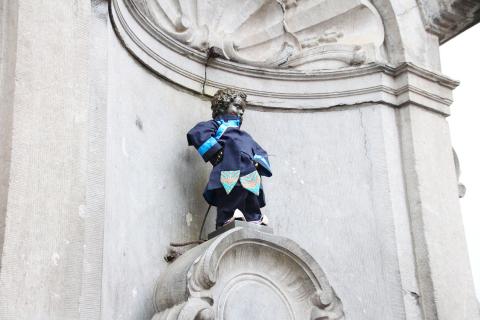 Manneken Pis, an iconic bronze statue in Brussels, Belgium, is pictured dressed in traditional Hakka clothing on Wednesday.
Photo: CNA
Brussels Archivist-Curator and Director-General of Culture Anne Vandenbulcke and Brussels City Councilor Hamza Fassi-Fihri attended the ceremony.
"It is gratifying as a person of Hakka descent to represent Taiwan's Hakka people to the world," Tseng said, praising traditional Hakka culture for its respect for women, and its ethos of frugality and hard work.
The costume, made by Shih Chien University fashion design professor Yeh Le-Chang (葉立誠), is a dark-blue jacket and baggy trousers, traditionally favored by Hakka of both sexes.
Eight Hakka children from Pingtung County's Neipu Elementary School danced in a street procession to deliver the costume to the statue.
After dressing Manneken Pis, the children performed another 10-minute routine using tung tree flower designs and handcrafted paper parasols, a specialty of the Hakka community in Kaohsiung's Meinong District (美濃).
The procession and the dressing ceremony attracted a large crowd, including Brussels residents, tourists and Taiwanese-Belgians.
Last year, a member of the public wrote to the Ministry of Foreign Affairs, saying that Brussels often put Manneken Pis in costumes from various nations and the ministry should use the opportunity to promote Taiwan, Tseng said.
Following the ministry's instructions, the Taipei Representative Office in the EU and Belgium worked for months to create the costume with the Hakka Affairs Council and to advocate for its selection by Brussels, he said.
It is very meaningful that Taiwan was able to show its diverse culture to the world, he said.
The Ministry of Foreign Affairs said the statue wore the Hakka outfit for seven hours on Wednesday.
Comments will be moderated. Keep comments relevant to the article. Remarks containing abusive and obscene language, personal attacks of any kind or promotion will be removed and the user banned. Final decision will be at the discretion of the Taipei Times.