Taiwan reiterates vow to increase defense budget
The Ministry of National Defense yesterday reiterated President Tsai Ing-wen's (蔡英文) pledge to increase the nation's defense spending every year after this fiscal year.
The statement came after China announced it would raise its military spending this year.
China's official military budget is to be 1.11 trillion yuan (US$175.1 billion), a 8.1 percent increase from last year, when China raised the budget 7 percent, Xinhua news agency reported.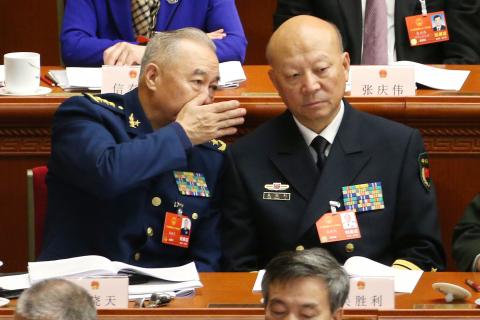 Chinese Central Military Committee members Ma Xiaotian, left, and Wu Shengli talk yesterday during the opening of the 13th Chinese National People's Congress in Beijing.
Photo: EPA
Tsai has pledged to raise to the defense budget every year and earmark expenditures for planned procurements, ministry spokesman Major General Chen Chung-chi (陳中吉) said.
The government is also to make special budget proposals to cover the costs of major unplanned arms deals, instead of deducting such expenses from the defense budget, Chen said.
"This ministry is committed to promoting national defense autonomy and the security of our nation," he said.
Meanwhile, China's Taiwan Affairs Office Minister Zhang Zhijun (張志軍) blamed Taiwan for "increasingly severe and complicated" cross-strait relations at a news event yesterday marking the opening of China's 13th National People's Congress.
"We have resolute will, full confidence and even fuller ability to prevent any sort or form of Taiwan independence separatist acts," Zhang said.
China has "encountered more risks and challenges" in cross-strait relations due to Taiwan's refusal to acknowledge the so-called "1992 consensus" and "more forceful interventions by outside forces," Zhang added.
The "1992 consensus," a term former Mainland Affairs Council chairman Su Chi (蘇起) in 2006 admitted to making up in 2000, refers to a supposed tacit understanding between the Chinese Nationalist Party (KMT) and the Chinese Communist Party that both sides of the Taiwan Strait acknowledge there is "one China," with each side having its own interpretation of what "China" means.
Taiwan is not the side that has been acting in ways that are detrimental to the relationship, Presidential Office spokesman Alex Huang (黃重諺) said.
The government's commitment to peace and goodwill has been clear and consistent, a fact that is not missed by the international community, he said.
"The goodwill and promises of this government are unchanged. We have no intention of returning the nation to a confrontational course of action or bowing to pressure," he said.
Comments will be moderated. Keep comments relevant to the article. Remarks containing abusive and obscene language, personal attacks of any kind or promotion will be removed and the user banned. Final decision will be at the discretion of the Taipei Times.