China extends 'unprecedented' benefits to Taiwanese
China's Taiwan Affairs Office (TAO) yesterday said Beijing has extended economic benefits and subsidies to Taiwanese businesses, civic groups, cultural workers and artists in China that were previously exclusively for Chinese citizens, a step that critics said represents an escalation in Beijing's use of "united front" tactics.
Hailing the measures as "unprecedented," TAO spokesman An Fengshan (安峰山) said the 31 incentives, effective immediately, would allow "Taiwanese compatriots to share in the opportunities arising from China's economic development."
The incentives seek to bring an "equality of opportunity" to Chinese and Taiwanese who are studying, starting businesses, working or living in China, An said.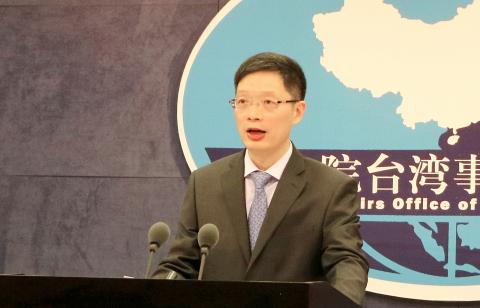 China's Taiwan Affairs Office spokesman An Fengshan yesterday reiterates that China would continue to push for peaceful cross-strait unification at a news conference in Beijing.
Photo: CNA
The policy applies to Taiwanese businesses and entities involved in a wide variety of commercial and noncommercial activities.
The incentives include permitting Taiwanese firms to invest in Chinese businesses, receive tax breaks, participate in the "Made in China 2025" initiative and National Key Research and Development Programs, bid for government procurement contracts, and manage semi-public enterprises, the TAO said.
Beijing is also encouraging the involvement of Taiwanese entrepreneurs in the Belt and Road Initiative, particularly in China's midwestern and northeastern regions, it said.
Taiwanese-owned agricultural entities are to receive the same subsidies and benefits that are available to their Chinese counterparts, it added.
Taiwanese are now eligible to enroll in certification exams for 134 professions and become members of Chinese industry associations and trade groups to "take part in work at the grassroots level," the TAO said.
Beijing is to relax restrictions on cross-strait cooperation in film and TV productions to facilitate collaboration, it said, adding that restrictions on Taiwanese publications and films marketed in China have been removed.
Taiwanese are now eligible to register for and win prizes and awards in the Chinese Cultural Heritage Development Excellence competition, it added.
The 31 incentives were "tailor-made" for Taiwanese, he said.
The Mainland Affairs Council said that it was aware of Chinese efforts to induce Taiwanese to trade political recognition for profit and that it would be on alert regarding such developments and their potential effects on Taiwanese industry and skilled workers.
Such endeavors over the past few years have been attempts to turn Taiwanese by trying prove the validity of China's claims, the council said.
Taipei has placed significant emphasis on policies that would improve Taiwan's economy, grow its technology industry and foster skilled workers among the younger generation, it said.
The council called on China to work toward introducing mutually beneficial policies that are free of political manipulations, saying that only then could benign cross-strait interactions be maintained.
Many of the measures and policies announced by China require interagency collaboration, so whether Beijing actually has such plans and the actual rate of implementation of such policies remains to be seen, the council said.
The council cautioned Taiwanese that there are differences in systems, regulations, market environment and values across the Taiwan Strait, saying that they should be circumspect in their risk assessment to maintain their rights and safety.
Additional reporting by CNA
Comments will be moderated. Keep comments relevant to the article. Remarks containing abusive and obscene language, personal attacks of any kind or promotion will be removed and the user banned. Final decision will be at the discretion of the Taipei Times.