Group urges independence referendum
CONSTITUTIONAL CHANGE: The alliance called on the DPP to correct the 'severest infringement' on Taiwanese's right to self-determination and allow the referendum
A major coalition to campaign for a Taiwanese independence referendum was formed yesterday in what was the highest-level gathering of pro-independence advocates since the Democratic Progressive Party (DPP) administration took office, with former president Lee Teng-hui (李登輝) calling for a new constitution and name for the nation.
The Formosa Alliance (喜樂島聯盟), launched by Formosa TV chairman Kuo Bei-hung (郭倍宏), was joined by Lee, former president Chen Shui-bian (陳水扁), former vice president Annette Lu (呂秀蓮) and former presidential adviser Peng Ming-min (彭明敏), as well as the New Power Party, the Taiwan Solidarity Union, the Social Democratic Party and the Taiwan Radical Wings.
At a news conference in Taipei packed with hundreds of independence supporters, alliance representatives announced plans to formally launch on April 7, the anniversary of late democracy activist Deng Nan-jung's (鄭南榕) self-immolation in 1989.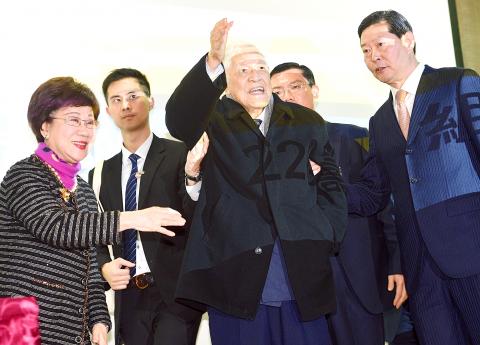 Former president Lee Teng-hui, center, former vice president Annette Lu, left, and guests yesterday attend a news conference held in Taipei by Formosa TV chairman Kuo Bei-hung, who announced he is to form an alliance to push for a referendum on Taiwanese independence.
Photo: Peter Lo, Taipei Times
It said it would campaign for one year for a referendum, which it wants to hold on April 6 next year.
Taiwan's sovereignty and political legitimacy come from the authorization of its 23 million people via direct elections and have nothing to do with China, Lee said.
"Although the relationship between Taiwan and China is in a very special state, it is undoubtedly a state-to-state relationship," Lee said.
This special state is due to a misguided national identity shaped by the Chinese Nationalist Party (KMT) within the Republic of China (ROC) framework, he said, adding that it would require name rectification and a new constitution to formalize Taiwan's statehood.
Lee said he had proposed the "ROC in Taiwan" framework and completed a series of constitutional amendments during his terms as president as a pragmatic approach to rebuild national identity and make progress on the goal of name rectification and promulgating a new constitution.
"With the Sunflower movement [in 2014] and the KMT's defeats in 2014 and 2016, I think it is time to take action," Lee said.
Taiwanese must vote in a democratic referendum to decide Taiwan's future and make the nation a member of the UN under the name "Taiwan," he added.
The alliance asked the DPP government to again revise the Referendum Act (公民投票法) to allow the referendum.
The latest amendment, which went into effect on Jan. 3, barred referendums on constitutional changes that would involve redefining the nation's territory or changing its official title.
"President Tsai Ing-wen (蔡英文) has influenced many DPP lawmakers to ensure that she and the 113 legislators have a tight grip on the right to decide Taiwan's future and the nation's destiny," the alliance said in a statement. "The alliance believes that [Tsai's] methods are no different than the belief held by some Chinese that they have the right to decide Taiwan's future and it also constitutes the severest infringement on 23.5 million Taiwanese's right to self-determination."
Comments will be moderated. Keep comments relevant to the article. Remarks containing abusive and obscene language, personal attacks of any kind or promotion will be removed and the user banned. Final decision will be at the discretion of the Taipei Times.