Reshuffle targets security, diplomacy
HARMONY: A number of officials who would reportedly be replaced were not part of the reorganization, which the Cabinet spokesman attributed to good teamwork
President Tsai Ing-wen's (蔡英文) administration yesterday announced a reshuffle of its top national security, foreign affairs and cross-strait officials.
Presidential Office Secretary-General Joseph Wu (吳釗燮) is to replace Minister of Foreign Affairs David Lee (李大維), who is to fill a vacancy left by National Security Council Secretary-General Yan Te-fa (嚴德發) after Yan becomes the minister of national defense.
Mainland Affairs Council (MAC) Minister Katharine Chang (張小月) is to be replaced by Chen Min-tong (陳明通), a professor at National Taiwan University's Graduate Institute of National Development who headed the council from 2007 to 2008.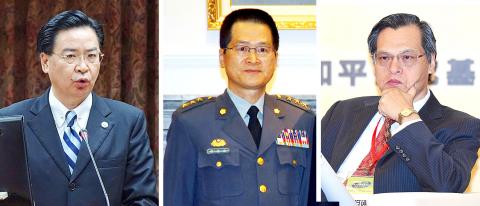 A combination of file photographs shows, from left, Presidential Office Secretary-General Joseph Wu, National Security Council Secretary-General Yan Te-fa and National Taiwan University professor Chen Min-tong. Wu is to become minister of foreign affairs and Yan is to become minister of national defense, while Chen has been named Mainland Affairs Council minister.
Photos: Taipei Times and CNA
Due to health issues, Minister of Labor Lin Mei-chu (林美珠) is to leave her post and be succeeded by Kaohsiung Deputy Mayor Hsu Ming-chun (許銘春), while former chief of the general staff Chiu Kuo-cheng (邱國正) is to take over the Veterans Affairs Council after Director Lee Shying-jow (李翔宙) departs.
Chang, Lee Shying-jow and Minister of National Defense Feng Shih-kuan (馮世寬) are to be appointed to new posts, Executive Yuan spokesman Hsu Kuo-yung (徐國勇) said, without providing further details.
However, media reports said that Feng is to assume the presidency of a government-funded national security think tank, which is expected to become operational in May.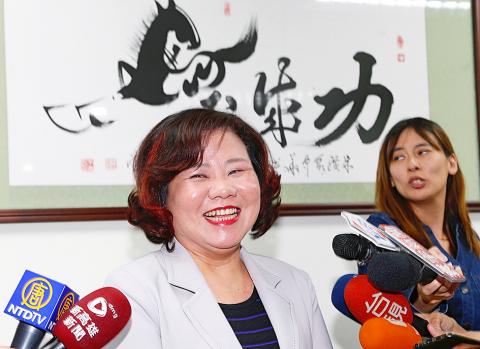 Hsu Ming-chun, center, who has been appointed to replace Lin Mei-chu as minister of labor, smiles while answering questions from reporters at a news conference held at the Kaohsiung Deputy Mayor's office yesterday.
Photo: CNA
The personnel changes are scheduled to take effect on Monday, with the exception of Chen, who has to handle school matters first and would not report for duty until the middle of next month, Hsu Kuo-yung said
MAC Deputy Minister Lin Cheng-yi (林正義) is to step in for Chen in the meantime, he added.
Regarding Wu's successor, Presidential Office spokesman Alex Huang (黃重諺) downplayed speculation that it would be Kaohsiung Mayor Chen Chu (陳菊), saying only that the matter has yet to be determined and would be announced as soon as a decision is made.
Given that the reshuffle mostly pertained to the president's mandates on foreign affairs, national defense and cross-strait ties, the lineup was not finalized until a meeting between Tsai and Premier William Lai (賴清德) at 1:30pm yesterday, Huang said.
As some ministers who would reportedly be replaced were not included in the reorganization, such as Minister of Education Pan Wen-chung (潘文忠) and Minister of the Interior Yeh Jiunn-rong (葉俊榮), there was speculation in the media over whether another reshuffle could occur after May 20, the second anniversary of Tsai's inauguration.
There were no leadership changes in government agencies overseen by Lai — other than Lin Mei-chu — because of good teamwork between the premier and those Cabinet members, Hsu Kuo-yung said.
"The premier also felt that his team's momentum has not only not slackened since he assumed the premiership on Sept. 8 last year, but has continued in an upward direction," Hsu Kuo-yung said, adding that any speculation of a reshuffle was unfair to the hardworking ministers.
Nevertheless, he declined to personally guarantee the other ministers' jobs would be safe when asked, saying that politically appointed officials should always be prepared to leave.
In response to a reporter's question on whether Wu's appointment as foreign minister constituted a demotion, he said that Wu's current and future posts are all minister-level positions.
Wu, a long-time trusted aide of Tsai on international and security affairs, served as the nation's representative to the US, as well as Democratic Progressive Party secretary-general under Tsai's party leadership from May 2014 to May 2016, when she campaigned for the presidency.
Following Tsai's inauguration as president, Wu was put in charge of the top national security body before being transferred to his current post in May last year.
Comments will be moderated. Keep comments relevant to the article. Remarks containing abusive and obscene language, personal attacks of any kind or promotion will be removed and the user banned. Final decision will be at the discretion of the Taipei Times.