Rescue helicopter disappears
BLACK HAWK DOWN: A Sikorsky S-70C helicopter that was engaged in the search mission had to return yesterday evening because of an unknown instrument failure
A National Airborne Services Corps (NASC) rescue helicopter that went missing minutes before midnight on Monday when evacuating a medical patient from Orchid Island (Lanyu, 蘭嶼) was still missing as of press time last night.
Although a search-and-rescue operation was being conducted, there was no sign of the helicopter and the six people on board — three crew, an emergency medical technician, the patient and a family member of the patient.
At about 11:50pm on Monday, the UH-60M Black Hawk helicopter with tail number NA-706 took off in poor weather, sources said, adding that it vanished from radar and radio contact and was lost within minutes.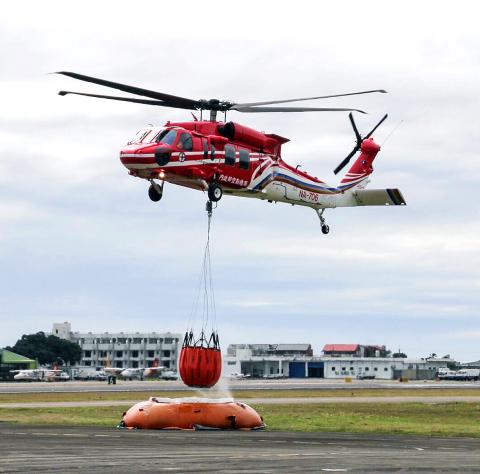 A National Airborne Services Corps UH-60M Black Hawk helicopter, which went missing off Orchid Island (Lanyu) in the early hours of yesterday, is pictured in an undated photograph.
Photo: National Airborne Services Corps / CNA
Its last known location was 2 nautical miles (3.7km) southwest of Orchid Island, sources said.
At 1:26am yesterday, the National Rescue Command Center began moving helicopters and ships to the area, including NASC and air force helicopters, a Lafayette-class frigate and five coast guard vessels.
The coast guard along with Taitung police and firefighters initiated an overland search, focusing on Orchid Island's hills and the coastline near Lanyu Airport.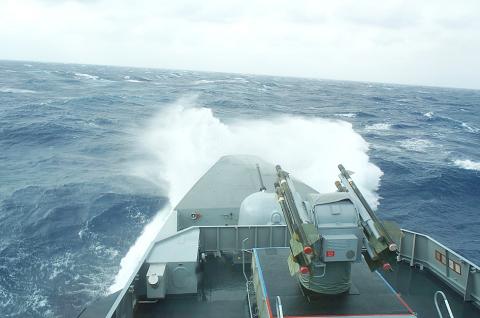 A wave breaks over the prow of a navy frigate yesterday as it searches for a National Airborne Services Corps helicopter that went missing off Orchid Island (Lanyu).
Photo: CNA, courtesy of Navy Command, ROC
However, an air force Sikorsky S-70C helicopter, launched at 6:56am to participate in the operation, was forced to land at Lanyu Airport at 7:40pm due to an instrument failure.
The precise cause of the failure was under investigation and another S-70C replaced the helicopter in the search, the air force said.
The Black Hawk's transponder did not transmit signals, although it was designed to do so if the helicopter crashed at sea, NASC Second Squadron Third Brigade Commander Chu Shih-chuan (祝世全) said.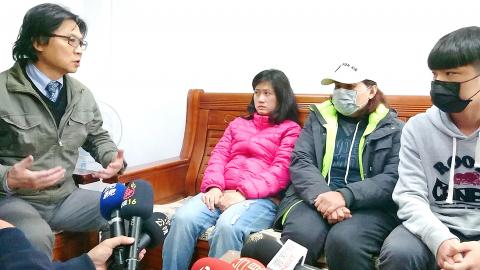 Minister of the Interior Yeh Jiunn-rong, left, in Taitung County yesterday talks to relatives of the crew of a National Airborne Services Corps helicopter that went missing off Orchid Island (Lanyu).
Photo: CNA
He also denied media allegations that NA-706 was flying in adverse conditions that exceeded operating parameters.
Black Hawk helicopters are fully capable of night operations over maritime environments and in powerful gusts, he said, adding that the visibility of 5,000m at the time of the incident was adequate.
He also dismissed as inaccurate a report in the Chinese-language United Daily News that quoted eyewitnesses as saying that the helicopter was malfunctioning immediately after take-off, because it was tilting forward during flight.
"Rotary-wing aircraft cannot accelerate from a horizontal position and must tilt forward to increase airspeed," he said. "It is normal for a helicopter to dip forward after take-off. This is unrelated to mechanical failures."
"No effort will be spared" in the operation to rescue the passengers, Minister of the Interior Yeh Jiunn-rong (葉俊榮) said yesterday morning.
Meanwhile, the Ministry of National Defense yesterday said that the armed forces have grounded all Black Hawks for inspection in response to the incident.
The army has also grounded its Boeing AH-64 Apache helicopter gunships following reports that a Japanese Self-Defense Forces Apache crashed on Monday, the ministry said.
In the past 16 years, there have been 11 NASC crashes with seven fatalities and three aircraft written off as total losses, excluding Monday's incident, according to the Aviation Safety Council.
Additional reporting by CNA
Comments will be moderated. Keep comments relevant to the article. Remarks containing abusive and obscene language, personal attacks of any kind or promotion will be removed and the user banned. Final decision will be at the discretion of the Taipei Times.