Tsai's approval rating falls
President Tsai Ing-wen's (蔡英文) approval rating dropped 4.2 percentage points from last month to 31.7 percent, her second-lowest in a Taiwanese Public Opinion Foundation poll so far, indicating that her Democratic Progressive Party (DPP) administration has lost a large number of supporters, the foundation said yesterday.
The poll found that approval for Tsai was only slightly higher than her rating of 29.8 percent in August last year, while her disapproval rating rose by 0.1 percentage points from last month to 46.7 percent.
Disapproval of Tsai exceeded 50 percent among respondents aged between 25 and 54, and her approval rating was less than 30 percent among that group, foundation chairman You Ying-lung (游盈隆) said.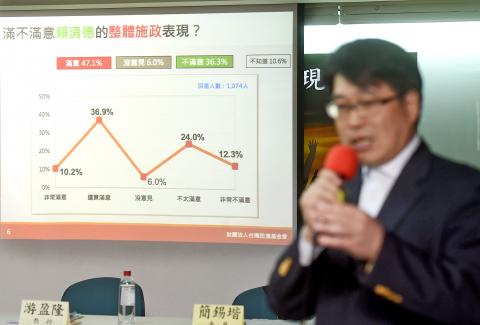 Taiwanese Public Opinion Foundation chairman You Ying-lung yesterday presents the results of the group's latest monthly poll at a news conference in Taipei.
Photo: Chien Jung-fong, Taipei Times
"It signals a dangerous implication when young and middle-aged groups become Tsai's main opponents," You said.
However, 47.1 percent of respondents approved of Premier William Lai's (賴清德) performance, while 36.3 percent were dissatisfied.
The foundation said 59.9 percent of respondents were not satisfied with Tsai's economic performance and only 30.6 were satisfied, a new low for her in the foundation's polls.
Although most economic indicators have shown signs of progress since last year, 41.5 percent of the respondents still believed that the economy took a downturn last year, 13.1 percent said it was picking up and 39.6 percent said there was not much difference from previous years, You said.
While 30.6 percent of respondents said they expected the economy to slow this year, 24.4 percent said they expected it to improve and 33.1 percent said it would not change.
Asked about their personal financial situation last year, 62.2 percent of respondents said it had not changed, 13 percent said it had improved and 23 percent said they were worse off.
As for other issues, while 39.8 percent of respondents supported the Civil Aeronautics Administration's decision to hold off approving applications for additional Lunar New Year holiday flights by China Eastern Airlines Corp (中國東方航空) and by XiamenAir (廈門航空) to counter Beijing's unilateral activation of the northbound M503 flight route, 43.8 percent opposed the decision.
Asked about Tsai's handling of cross-strait relations, 59.6 percent of respondents said they were dissatisfied, while 30.8 percent were satisfied.
The president's approach to Beijing was too hardline according to 23.3 percent of the respondents, while 30.3 percent said it was appropriate and 29.8 percent said it was too weak.
The survey results show that the public is disappointed with the economy, and the DPP should outline a broader vision of economic development and cross-strait relations, former DPP legislator Chien Hsi-chieh (簡錫堦) said.
Of the respondents, 28 percent said they identified with the DPP and 24 percent with the Chinese Nationalist Party (KMT), while 43.4 percent said they were neutral.
The percentage of people identifying with the DPP was as high as 51.9 percent in June 2016, but the latest poll showed it had fallen to its second-lowest point since Tsai took office.
The survey was conducted between Sunday and Tuesday last week. A total of 1,074 valid samples were collected and the poll has a margin of error of 2.99 percentage points.
Comments will be moderated. Keep comments relevant to the article. Remarks containing abusive and obscene language, personal attacks of any kind or promotion will be removed and the user banned. Final decision will be at the discretion of the Taipei Times.