Mega Bank to pay fine to US regulators
FURTHER PENALTIES? The Financial Supervisory Commission said it would conduct examinations of three of the lender's US branches and might issue additional fines
State-run Mega International Commercial Bank (兆豐銀行) yesterday said it has agreed to pay a US$29 million fine to US federal financial regulators for compliance failures at three US branches.
The banking arm of Mega Financial Holding Co (兆豐金控) attributed the latest penalty to previous breaches of US money laundering and banking secrecy laws, for which it had already paid a fine of US$180 million in 2016 to the New York State Department of Financial Services.
Those deficiencies prompted the US Federal Reserve Board to conduct inspections of Mega Bank's branches in New York, Illinois and California, and hand down the new fine, Mega Bank president Bruce Yang (楊豊彥) told a news conference at the Taiwan Stock Exchange.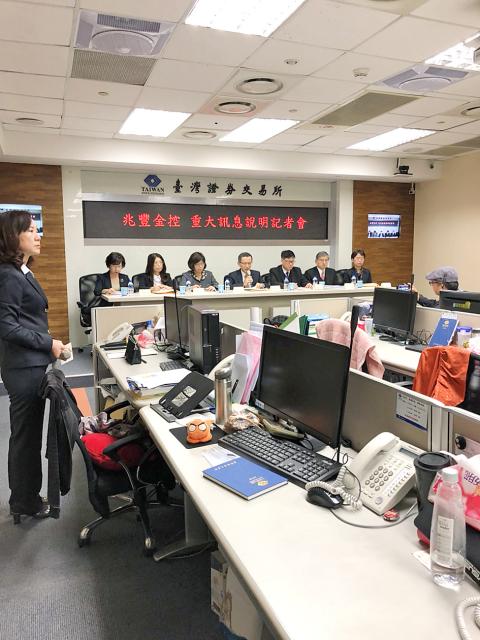 Mega International Commercial Bank officials hold a news conference at the Taiwan Stock Exchange in Taipei yesterday.
Photo: CNA
US federal authorities also required the bank to come up with measures to strengthen its money laundering oversight and controls, Yang said.
"The new fine stemmed from old breaches," which had triggered a reshuffle of top executives and eroded much of the lender's earnings in 2016, he said.
Mega Financial reported NT$26.62 billion (US$900.5 million) in net income for last year, or earnings per share of NT$1.96, despite higher provision and compliance costs, a bank official said by telephone.
The results suggest a double-digit percentage increase from NT$22.39 billion in profit recorded in 2016, although the final figures would soften after recognition of the new fine, which amounts to NT$857.29 million, said the official, who asked not to be named.
Mega Financial aims to book the new fines on last year's earnings, the official said, adding: "Despite the bad news, the company managed to meet its earnings target last year."
Mega Financial has been introducing corrective measures and upgrading its computer system, but it might take a while to get everything back on track in light of the complexity involved, Yang said.
Mega Financial denied any involvement in money laundering and apologized for its loose internal controls causing a stir in Taiwan and the US.
The bank-focused conglomerate turned conservative on lending operations following the 2016 fine, setting a mild increase of 1.5 percent to 2 percent in its loan books last year, and halting a search for acquisition opportunities at home and abroad.
The Financial Supervisory Commission said it would conduct an examination of three Mega Bank branches in the US and might issue more fines to the lender, after it slapped it with a fine of NT$10 million on Sept. 4, 2016.
The commission said it would wait and see how the US responds to Mega Bank's progress in improving the issue before deciding whether and how much to fine the bank again.
The Executive Yuan said the US$29 million fine would not affect the Asia/Pacific Group on Money Laundering's evaluation of Taiwan this year, which is a key indicator of the nation's efforts to prevent money laundering in line with international standards.
Cabinet spokesman Hsu Kuo-yung (徐國勇) said the US federal system allows both federal and local governments to issue separate punishments for the same violation.
Additional reporting by Chen Wei-han and CNA
Comments will be moderated. Keep comments relevant to the article. Remarks containing abusive and obscene language, personal attacks of any kind or promotion will be removed and the user banned. Final decision will be at the discretion of the Taipei Times.